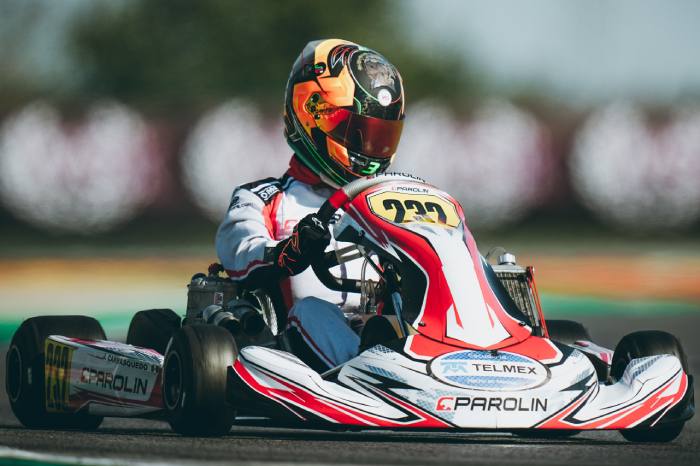 The WSK Open Cup has concluded at the Adria International Raceway, not far from Venice in eastern Italy. The meeting once again enabled kart racer Jesse Carrasquedo to compete with the best drivers in the world in the OK category. His rise from 31st to 13th place speaks volumes about his abilities and determination. For the young Mexican and the Parolin Motorsport team, this is a very good omen, a few weeks before the World Championship which will take place at the end of October in Spain.
Jesse Carrasquedo has just experienced an extremely positive weekend in Adria. "My karting season is coming to an end and I really want to finish 2021 on a high note before I move on to cars," commented Jesse. "I have gained a lot of experience from this WSK Open Cup which was held over two meetings. I could see significant progress between my trip to Lonato in September and this more recent race in Adria."
A GOOD PERFORMANCE BEFORE THE WORLD CUP
Despite some good work during the Free Practice sessions, the Qualifying sessions did not meet Jesse's expectations and he had to be satisfied with 31st out of 40 drivers. But as is often the case this season, the Mexican driver was able to set a very high pace during the Qualifying Heats. On his first start, he gained three places to cross the finish line in 12th position, before moving up another two places in the following heat.
"The Adria circuit is very demanding for both the equipment and the drivers, but I felt more and more comfortable as the meeting went on. In the last heat I managed to move up from 16th to 8th place, running the same times as the drivers who finished ahead of me. The choices made in terms of set-up were in the right direction, thanks to the Parolin team and to my engine manufacturer who supplied me with TM engines."
His rise to prominence continued in Prefinal B, where he jumped from 12th to 7th place, putting him 13th on the grid for the Final. The Final proved to be very competitive and was even interrupted by a "slow" procedure, making it difficult for Jesse. "I lost a few places at the beginning of the race and I recovered them as the laps went by to keep my 13th place at the finish, which is still a very good result considering the high standard of the event. It is true that there was an incident during the Final and I wish a speedy recovery to the three drivers who were involved."
Jesse Carrasquedo's objective now is to have an excellent OK World Championship from 28th to 31st October at the Campillos circuit in southern Spain.
Press Release © Jesse Carrasquedo