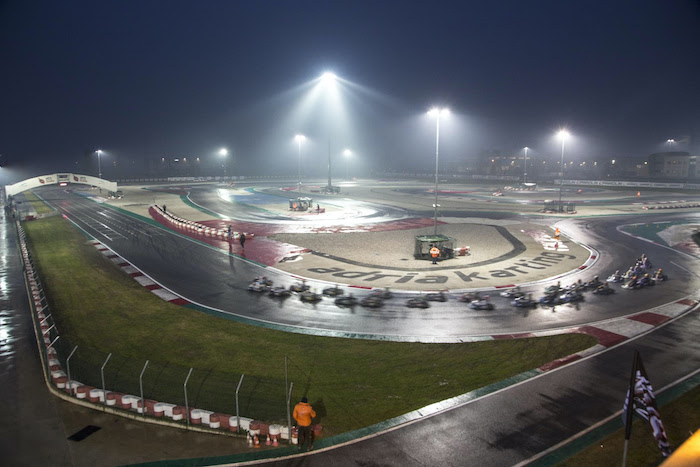 Qualifying heats held on Saturday at the Adria Karting Raceway highlighted the speed of a good number of drivers that will fight for the win in the final stages on Sunday, January 26th in the first of the WSK events. A slight rain made things trickier for the drivers on track. A good number of drivers –  170 coming from 37 countries covering the 5 Continents – will fight for the win in all the three categories entitled in this event: OK, OK-Junior and Mini. Foreign drivers have been shining particularly in the provisional classifications after qualifying heats.
Antonelli gave up in OK, green lights for the Ten Brinke
In OK, Andrea Kimi Antonelli (KR-Iame-Bridgestone) was the first twist of the weekend. After posting the pole position and taking the victory in the first heat on Friday, the Italian could not get on track on Saturday due to a flu and he will most probably have to skip also the final stages on Sunday. The Dutch Thomas Ten Brinke (Kosmic-Vortex-Bridgestone) won two heats and took the lead. Other winners have been shining too, like the Brit Taylor Barnard (KR-Iame) and the Russian Kiril Smal (Energy-TM Racing).
OK, classification after heats: 1. Ten Brinke; 2. Barnard; 3. Van T Hoff; 4. Van Hoppen; 5. Bedrin
Lindblad, Spina and Ugochukwu on top in OK-Junior
The drivers aiming to the win in OK-Junior are quite numerous. Brando Badoer (KR-Iame-Vega) is among these after claiming the pole position on Friday. The provisional classification sees currently the British driver Arvid Lindblad (KR-Iame) on top as he won two heats, while Badoer and his teammate Alfio Andrea Spina won one, as the American Ugo Ugochukwu (Kosmic-Vortex) had mixed fortunes.
OKJ, classification after heats:  1. Lindblad; 2. Badoer; 3. Spina; 4. Stenshorne; 5. Pingasov.
The Pole Gladysz and several Russian drivers to the fore in Mini
The crowded Mini did not betray the expectations of being quite open and cheered 7 different winners in the 10 heats run. Among the main protagonists on track, several drivers came from Russia – the country is actually represented by 13 drivers out of the overall 75. The Pole Maciej Gladysz (Parolin-TM Racing-Vega) was very fast and secured three wins, while his teammate from Russia Anatoly Khavalkin won two, the Russians Dmitry Matveev (Energy-TM Racing) and Gerasim Skulanov (IPK-TM Racing), the Japanese Berta Kean Nakamura (KR-Iame), the Dutch Rene Lammers (Parolin-TM Racing) and the Chinese Yuanpu Cui (Tony Kart-TM Racing) won one.
MINI, classification after heats: 1. Gladysz; 2. Khavalkin; 3. Matveev; 4. Przyrowsy; 5. Bouzar.
The final stages will take place on Sunday, January 26th with the live streaming covering all Prefinals, Finals B for Mini and OK-Junior and all the Finals that will start at local 14:00.
The program at the Adria Karting Raceway
WSK Champions Cup 2020 Sunday, January 26th
Live streaming www.wsk.it
9:00 – 10:25 Warm-up
10:30 – 12:30 Prefinals
12:30 Finals B OKJ – Mini
14:00 Finals OKJ – Mini – OK