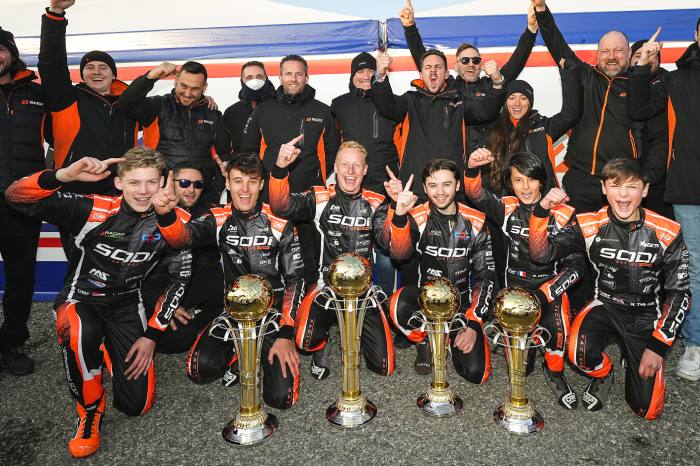 With its pair of official drivers, its brand new design and the Sigma 2022 chassis recently homologated by CIK/FIA, the Sodi Racing Team put on a real exhibition in Italy during the WSK Champions Cup. Senna Van Walstijn dominated throughout the weekend, beating his team-mate Emilien Denner by a whisker. Arthur Carbonnel completed the podium, demonstrating the formidable efficiency of the Sodi-TM packages and the brilliance of the CPB Sport team in KZ2. Nathan Tye's 3rd place in OK-Junior put the spotlight on the Sodi chassis in the categories without gearboxes. This result confirms and solidifies the strong end to the 2021 season in OKJ.
New record for the Lonato circuit!
The season could not have started better for the French factory Sodikart, which confirmed the extremely high level of performance of its equipment on Italian soil. Senna Van Walstijn took pole position in 45″022, setting a new record for the famous South Garda Karting circuit. The Dutchman went on to win all three heats, while Emilien Denner and Arthur Carbonnel were very close to the leader. The Sodi colours were back in 1st place in the Prefinal, again thanks to Van Walstijn.
After some fierce duels and unchallenged competitiveness the Sodikart trio gradually took shape in the Final. After his magnificent start, which saw him lead the race for 10 laps, Arthur Carbonnel first gave way to Senna Van Walstijn, then to Émilien Denner. Setting the fastest lap in the race in the Prefinal as well as in the Final, Émilien achieved a great feat by coming back from 12th to 2nd place, finishing in the direct wake of the winner.
A first podium for Sodikart in OK-Junior
For the Sodi Racing Team, the results of the WSK Champions Cup were particularly positive in KZ2, and also in Junior, with the performances of youngsters Nathan Tye and Andy Consani. 3rd in Timed Qualifying, 2nd after the heats and 3rd in the Prefinal, Nathan Tye ended up on the third step of the podium after a very competitive Final, in which he came close to victory. The British driver completes the great return of the French brand to an international podium in OK-Junior. 4th in the timed session for his debut in the category, Frenchman Andy Consani was one of the revelations of the meeting, and he appreciated the qualities of his new Sodi chassis.
"We are obviously very happy with this triple achieved by Senna Van Walstijn, Emilien Denner and Arthur Carbonnel," confirmed Mansel Smith, team manager of the Sodi Racing Team. "A hat-trick at this level is always quite rare and it is reminiscent of the one achieved by the trio of Denner-Besancenez-Nomblot in 2019, the year Émilien Denner won the world title in KZ2. Of course, we are aware that several teams were absent from this WSK Champions Cup, but this result gives us confidence and shows that the work done by the Sodikart factory has paid off. The new 2022 chassis are extremely effective. Denner and Van Walstijn have confirmed that they are reliable talents, while the KZ2 drivers will be closely followed in 2022. Arthur Carbonnel as well as Thomas Imbourg were in the mix and other youngsters are proving very promising."
Press Release © Sodikart