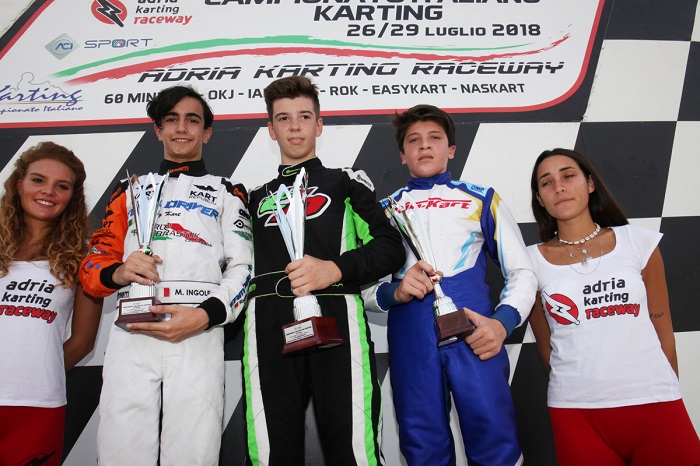 "Translated with Google translate"
Adria, 29th July 2018. The Race Finals1 in the Italian ACI Karting Championship on the Adria Karting Raceway circuit saw a great competitive show develop in a very hot weekend in all the categories involved in this fifth event of the season.
In the X30 Junior he managed to win Race-1 Edoardo Ludovico Villa (TB Kart-Iame) in front of Mattia Ingolfo (KR-Iame) and Francesco Pulito (Top Kart-Iame).
In the X30 Senior was Luigi Coluccio (BirelArt-Iame) to impose itself at the end of a fought final, while the second position went to Lorenzo Ferrari (Parolin-Iame) and the third to Francesco Pagano (KR-Iame).
The 60 Mini was particularly exciting, with a final victory for Martinius Stenshorne (Parolin-Tm) who got the better of Andrea Kimi Antonelli (Energy-Tm) in a sprint finish. Third was placed Ean Eyckmans (Parolin-Tm).
In the Rok Junior, the Brazilian Matheus Morgatto (Parolin-Vortex) won over Paolo Ferrari (Parolin-Vortex) and Ugo Ugochukwu (Tony Kart-Vortex) after a lively exchange of positions.
In the Senior Rok a splendid victory was obtained by Pietro Delli Guanti (Exprit-Vortex) in a comeback after an initial incident that had made him lose 7 positions. Second was Francesco Sartori (Tony Kart-Vortex), third the Polish Matheusz Kaprrzyk (Kosmic-Vortex).
In Easykart the success went to Francesco Serafini on Rosolino Caralla and Alfonso D'Eugenio, all on Birel-Bmb.
In the Naskart Trophy he won Moreno Di Silvestre on Paolo Castagnetti and Alessandro Brigatti.
The second series of finals starts at 13:55, in the order with the categories X30 Junior, X30 Senior, 60 Mini, Rok Junior, Senior Rok, Easykart, Naskart, Entry-Level.
LIVE TV AND LIVE STREAMING. Sunday, July 29th, live TV on AutoMotoTV (Sky channel 228), with live streaming on the website www.acisportitalia.it and on the Facebook page Italian ACI Karting "@ACIKarting". Live Timing and Results at www.acisportitalia.it.