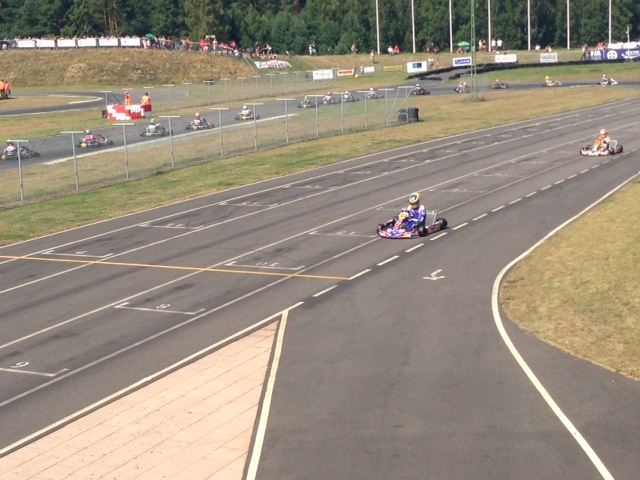 HOT NEWS – TKART – KRISTIANSTAD (SWEDEN) – The final of the KZ2 was anything but boring, besides the fact that its outcome decided the 2014 European champion.  The winner of the race is  Douglas Lundberg (Alpha/Parilla) who almost made it to the top of the title hunt.
The Swedish driver, after winning the prefinal with a full set of new tires, starts off incredibly fast, conquering the top spot of the race, and never relinquished the lead. At some points in the race, however, he has to worry about the CRG duo of Felice Tiene (racing as a wild card entry) and Fabian Federer. The two manage to keep Lundberg's pace, but when the time comes, they fail to take advantage of the slipstream and overtake. The reason is that Lundberg's kart started leaking water and the two progressively lost grip on the wet path.
Simas Juodvirsis (Energy/Maxter), who was the provisional championship leader going into the final, meets bad luck: he has to wave goodbye to the European crown due to a malfunction. The problem slows him down lap after lap, eventually forcing him to retire from the race. His withdrawal coincides with the reawakening of Andrea Dalè (Crg/Maxter), who completes his rise from ninth on grid to fifth at the finish line. The result allows him to totalize the 55 points he needs to become European Champion. His is an especially nice success story because, even if racing with CRG's support, he is a private driver. Jan Midrla (Birel/TM) is sixth across the finish line, after a stunning 27 position climb – had the Czech driver been steadier throughout the championship, he would've probably achieved a better result. He rounds off the championship top 5.
Click here to see the race results for all drivers
Click here for the final championship results