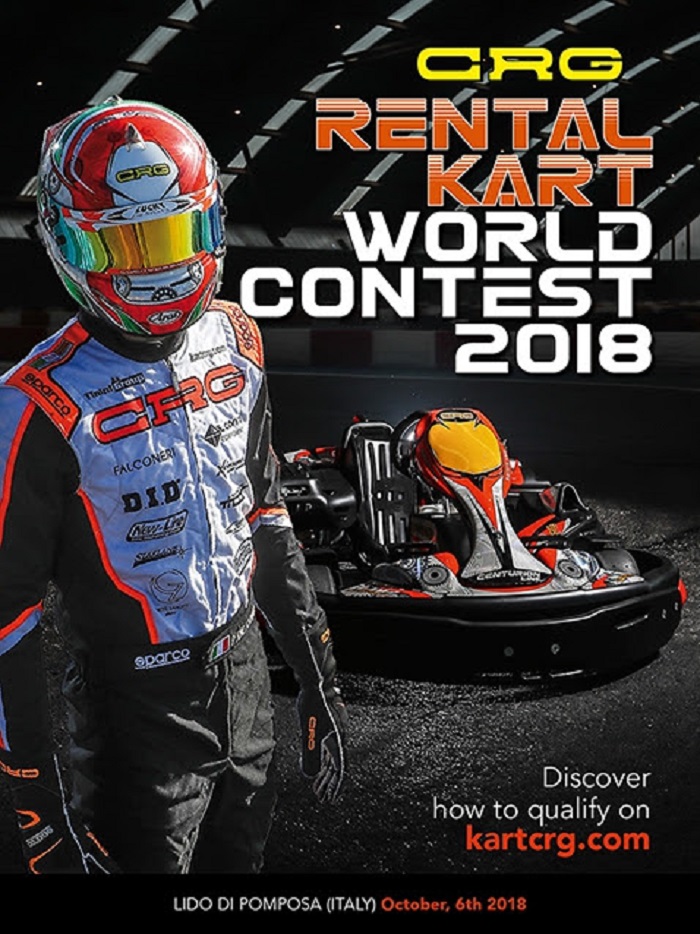 The 2nd edition of the Rental Kart World Contest is going to be an event not to be missed by all the Kart Endurance fans. The International Final to be run on Saturday October 6th on the karting circuit in Pomposa is reserved to teams selected all around the world in events run on CRG Karts.
It will be a 10 Hours Endurance race employing brand new CRG Centurion Karts managed by the racing department of the Italian factory. Among the qualifying events, the 24 Hours Karting of Italy held in Adria (Italy) qualified the Danish team ATB and some other teams entered as wild cards, and the Endurance Kart Cup series managed by CNC Events was another qualifier.
Several teams will come to Pomposa from all over the World. Teams from China, Mexico, Peru, Colombia, Germany, France, Romania have already confirmed their presence alongside several other Countries that run the qualifying events.
The official entry list will be disclosed in the coming days as the final 10 places available are still to be defined. Alongside teams winning CRG events, teams that took part in official events using CRG Karts will be entitled to enter as wild cards.
This is going to be a karting Endurance celebration and a high level International event with the presence of the best teams coming from all over the world. The event will include 1 hour of free practice, a Superpole session and the Endurance 10 hours race.
Regulations are very simple and only impose a minimum of 8 Pit Stops with driver change. A Silver category has been set up for amateurs that will require a minimum of 12 driver changes. Organizers defined an official program and an additional free practice session on Friday October 5th with racing karts allocated by lot; this session is optional and upon payment.
CRG is currently coordinating several high level activities, both regarding services and communication and has created a Secretariat that will provide all participants with information and logistic support (Tel. +39.030.9912604 – [email protected]). All bulletins, official regulations and entry forms are available at the following CRG's website: http://www.kartcrg.com/it/com-news/rental-kart-world-contest-2018
Useful information:
Entry fees for Teams winning qualifying events: Euros 990,00 (tax included).
Entry fees for Wild Cards: Euros 1980,00 (tax included). Interested teams should contact the Secretariat before Friday September 21st.
Extra Free Practice on Friday, September 5th (1 hour, from local 17:45 to 18:45): Euros 100,00
Karts: CRG Centurion with 390cc engines allocated by lot and managed by CRG's Racing team.
Circuit: Pomposa, Italy (Info:www.circuitodipomposa.com)
Contacts: [email protected]
TIMING, SATURDAY OCTOBER 6TH
TIME SESSION LENGHT
07:30 – 09:00 Sporting scrutineering 1h30'
09:00 – 09:30 Briefing 30'
10:00 – 11:00 Free practice 1h
11:10 – 11:20 Superpole 10'
11:25 Drivers' Parade
13:00 – 23:00 Endurance Race 10h
23:30 Prize Ceremony
CRG SpA
Press Office
www.kartcrg.com