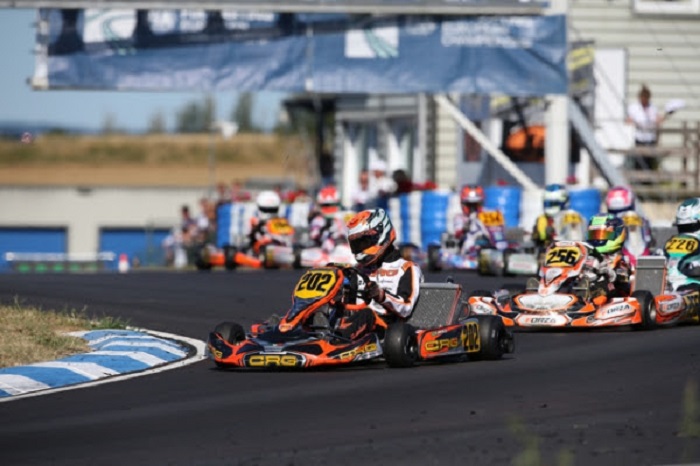 "Translated with Google translate"
It was a very intense weekend that played in France in the Essay test, which had the task of assigning the two continental titles of the two categories OK and OK-Junior. CRG has concluded with Pedro Hiltbrand in the third place finish in the European OK Championship, and with Gabriel Bortoleto third in the OK-Junior European Championship.
For CRG the final result was positive, although it could have been better, but the CRG drivers' choral performance has been remarkable: in OK also with Andrea Rosso, Callum Bradshaw and Ayrton Fontecha always at the top in the heats, as well as Kas Haverkort, and the same is true in the Junior, where also Enzo Trulli, Alfio Andrea Spina (at his first success in a heats) and Paolo Gallo (Kalì-Kart) showed excellent performances. Everything highlighted the excellent versatility on all the tracks and in all the conditions of the combination CRG-Tm.
In the OK Pedro Hiltbrand had a technical problem since the qualifying tests that forced him to climb uphill, until the withdrawal in the final. However, his third place in the European Championship, but without the initial inconvenience, the Spanish CRG driver could have aspired to a certainly more prestigious result. In the OK, Callum Bradshaw finished sixth, while Kas Haverkort was forced to retire due to a technical problem as well as Andrea Rosso stopped after a contact with Vidales and Maloney.
In the OK-Junior excelling in the final result was once again Gabriel Bortoleto, also on the podium in France with an excellent third place that confirmed him among the fastest ever and won the third place in the European Championship with merit. In the Final among the best also Enzo Trulli with a good tenth place, while Alfio Andrea Spina was forced to retire after being taken by a promising 12th position. Leonardo Bertini Colla, on the other hand, failed to qualify for the final.
Now the goal for the whole CRG official team is to work for the final step according to the double World Championship event in September, in Genk (Belgium) on September 9th for the KZ and KZ2 World Championships, in Sweden in Kristianstad 23 September for the OK and OK-Junior World Championships.
The final classification of the European Championship OK: 1. Janker points 77; 2. Thompson 64; 3. Hiltbrand 58.
The final classification of the OK-Junior European Championship: 1. Aron points 83; 2. Minì 80; 3. Bortoleto 68.
All results on the site www.cikfia.com