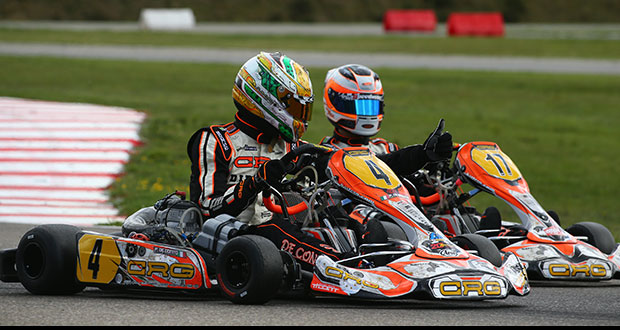 [divider style="dotted" top="10″ bottom="10″]
The circuit owned by Fernando Alonso near Oviedo is about to host the third and penultimate round of KZ and the second of OK and OK-Junior European Championships after the round of Sarno. Paolo De Conto leading the KZ classification after dominating the first two rounds.
[divider style="dotted" top="10″ bottom="10″]
[one_half]
[dropcap]T[/dropcap]he third act of the CIK-FIA European Championship is scheduled for this coming weekend in Spain at the Circuit Fernando Alonso. Categories OK and OK-Junior will get on track after the opener held in Sarno, while KZ follows the rounds of Sarno and Genk.
The circuit owned by Fernando Alonso in the Asturias close to Oviedo is about to host its maiden international CIK-FIA race and its 1.390 meters are a novelty for nearly all participants. Among its features, the names given to the main corners, as the "Chicane Parma", that is the last chicane before the main straight that is named after the circuit of Parma that Alonso visited a lot back in his karting days.
THE FINAL SPRINT OF KZ
CRG has dominated the first two KZ rounds with Paolo De Conto, on CRG-Tm. The 2016 World Champion and two times European Champion of KZ1 in 2011 and KZ2 in 2010 is a great interpreter of this category. He his a real thoroughbred champion that is displaying all his speed and the quality of the CRG package prepared by the Italian outfit.
The third and penultimate act of the European KZ Championship in Spain can be a crucial moment for the classification. CRG is currently leading the charts with De Conto thanks to the full haul scored so far, and thanks also to the results put in by Stan Pex, who is second in the classification after the recent fourth and third places. In Spain, CRG will also line up 2015 World Champion Jorrit Pex in KZ. He is well motivated to climb the classification of this European Championship.
KZ European Championship classification after Sarno and Genk: 1. De Conto (CRG-Tm) points 65; 2. Pex Stan (CRG-Tm) 42; 3. Hajek 36; 4. Abbasse 32; 5. Kremers 30; … 13. Pex Jorrit (CRG-Tm) 13.
[/one_half]
[one_half_last]
READY TO BOUNCE BACK IN OK
CRG will compete in Oviedo's OK and OK-Junior European Championships with several protagonists ready to shine. Among all, expectations in OK are high for Flavio Camponeschi on CRG-Iame, who has been quite unlucky in Sarno, and for Dennis Hauger, who has taken his maiden victory in this category in Kerpen's DKM. The other CRG drivers, namely the Spaniard Kilian Meyer, Michael Rosina and Hannes Janker also have a great potential. Callum Bradshaw is going to skip this round instead as he will be busy with school exams.
BORTOLETO CHASING THE LEAD IN OK-JUNIOR
The young Brazilian Gabriel Bortoleto is called to confirm the podium obtained in Sarno (P3) in OK-Junior and he is only 4 points shy of the top of the classification. CRG works team for this category will also include Luca Giardelli, Donar Munding, and the Spanish drivers Francisco Sagrera and Ayrton Fontecha.
THE PROGRAMME IN OVIEDO (GMT+2)
CIK-FIA European KZ, OK & OKJ Championships, 9-11.06.2017
Friday 9 June 2017: Free practice.
Saturday 10 June 2017: Qualifying from 10:20. Qualifying heats from 13:05.
Sunday 11 June 2017: Qualifying heats from 10:05. Drivers presentation 12.45. Finals: 14:20 OK-Junior, 15:05 OK; 16:00 KZ.
[/one_half_last]
[divider style="dotted" top="10″ bottom="10″]
All results, Live Timing and Live TV at www.cikfia.com and www.wskarting.it
[divider style="dotted" top="10″ bottom="10″]
[box type="shadow"] Fonte: CRG Press Office[/box]
[divider style="dotted" top="10″ bottom="10″]