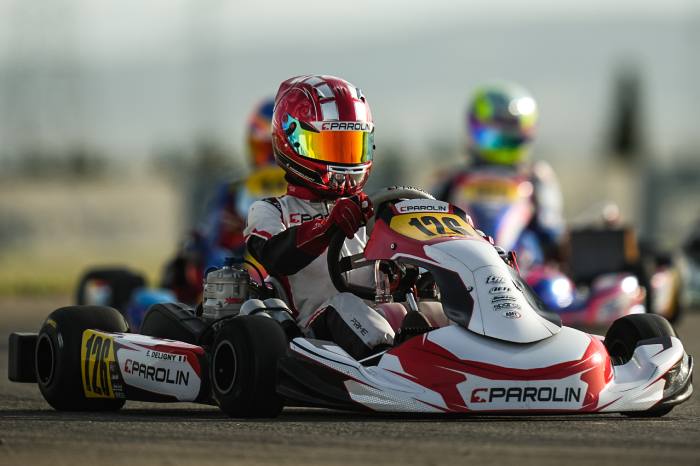 On the Spanish circuit of Zuera, Parolin Motorsport scored important points in the second round of the FIA Karting European Championship – OK and OK-Junior. Enzo Deligny again took 2nd in OK, both in the Final and in the standings, while René Lammers finished 4th in the OK-Junior Final and moved up to 3rd in the standings. Zac Drummond achieved his best result with a 6th place in the Final.
The meeting took place in sunny and warm weather. The 1,699m long Zuera circuit is demanding for the engines and requires a very well-tuned chassis. Slipstream plays an important role and the slightest mistake can have serious consequences. At Parolin Motorsport the equipment was again very competitive and the young drivers showed good progress.
"We regretted the absence of Anatholy Khavalkin who could not defend his 2nd place in the European OK-Junior Championship", Marco Parolin noted. "Administrative reasons prevented him from going to Spain. Fortunately René Lammers and Zac Drummond reacted very well and Parolin Motorsport was able to continue to prove its high competitiveness. Lammers strengthened his 3rd place in the Championship standings by climbing up to 4th position, 0.170″ from the podium. It's a pity that he was involved in a crash in a heat because he was in a position to finish better in the top three. Drummond was very fast during the Qualifying sessions and he took advantage of this to perform very well in the top three of the heats before ensuring a very good 6th place in the Final. Enzo Deligny had the opportunity to assert his status in OK during the whole event. Excellent in the top four of Qualifying and the heats, he won Super Heat B with panache and fought for the win in the Final before taking the second step of the podium. Thanks to the performance level of our Parolin/TM Racing karts, our drivers are progressing with each race in both categories. This is going to be an exciting season and our ambitions are very high. We are now preparing for the next round in Sweden."
OK-Junior
René Lammers
16th in Qualifying, two wins and a 2nd place in the heats, 10th in the intermediate ranking, 3rd in Super Heat B, 4th in the Final (+5 pl), 3rd in the provisional Championship ranking (+6 pl).
Zac Drummond
5th in Qualifying, 2nd and twice 3rd in the heats, 3rd in the intermediate ranking, 6th in the Final, 9th in the provisional Championship ranking (+8 pl).
OK
Enzo Deligny
4th in Qualifying, three times 2nd in the heats, two fastest laps, 1st in Super Heat B, 2nd in the Final, 2nd in the provisional Championship ranking (+6 pl).
Press Release © Parolin Motorsport