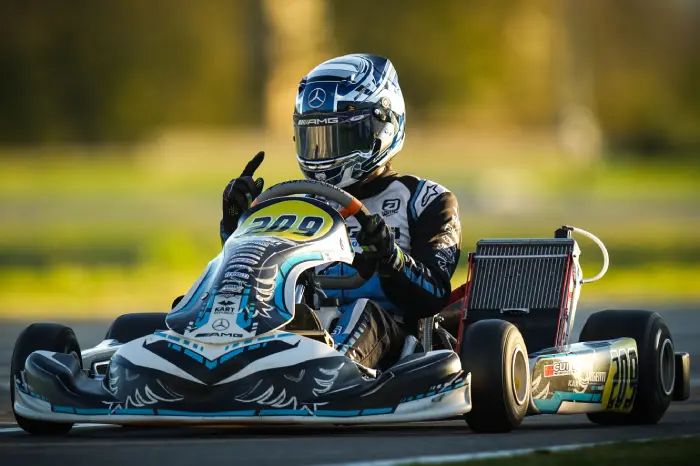 A regular tyre supplier to the WSK Promotion events, the manufacturer LeCont fulfilled its mission perfectly at the first of the two events of the WSK Final Cup 2022. Rain and sunshine followed each other at the Sarno international circuit, but in all cases the drivers showed a very high level of performance in the OK category, which LeCont equipped in complete sporting fairness. Two weeks earlier, the Italian brand was delighted to have been selected as the supplier of "Prime" tyres for the next FIA Karting Championships in KZ, KZ2 and Masters.
In Sarno, the OK category had a magnificent line-up of almost 40 drivers for the opening of the WSK Final Cup. The confrontation was very interesting with the presence of several young drivers moving up from the OK-Junior, against the regular frontrunners in the category. On Friday morning, during the last Free Practice sessions before the Timed Practice, it was the 2022 OK-Junior European Champion, Anatoly Khavalkin, who set a sensational time of 53″243, a few hundredths better than the fastest lap achieved in the Final of the WSK Super Master Series in Sarno in March.
The absolute fastest time of the meeting for LeCont
After this, rain arrived in the Naples area, forcing the teams to equip the karts with rain tyres, which proved to be essential throughout the six Qualifying Heats. Five drivers from five different teams had the honour of winning at least once, with a slight advantage for Joe Turney who won twice, and there were extremely small gaps between drivers in the field.
"Guaranteeing consistent performance and ensuring sporting fairness remain imperatives for LeCont at every event," commented Paolo Bombara, marketing manager of the Italian manufacturer. "At Sarno, this was the case with both our slick and wet tyres and the drivers were able to put on a quality show."
On Sunday morning, the return of the sun was joined by victories for Joe Turney and Alex Powell in the two Prefinals. Suspense remained throughout the Final and it was finally Yuanpu Cui who climbed to the top of the podium ahead of Anatoly Khavalkin and Jimmy Hélias. The fastest lap went to Khavalkin with a time of 53″308 at an average speed of 104.6 km/h, more than a second faster than the fastest lap in the Final of the 2022 FIA Karting World Championship – OK (equipped by another manufacturer) on the same circuit in Sarno.
A new partner of FIA Karting
At its meeting on 19th October 2022 in London, UK, the FIA World Motor Sport Council decided to select LeCont as the "Prime" tyre supplier in 2023 for the KZ World and European Championships, the KZ2 World Cup and European Championship and the KZ2 Masters International Super Cup.
Press Release © LeCont