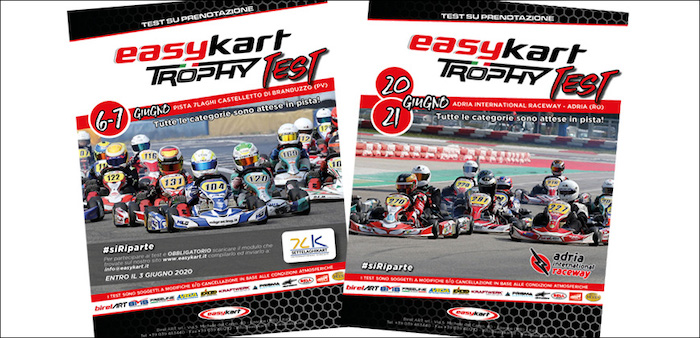 We are back finally! In June, the big heart of the Easykart family will once again beat with two collective test sessions: on the 7 Laghi Kart track in Castelletto di Branduzzo on 6 and 7 June and at the Adria International Raceway on 20-21 June. Both days are open for all categories including the debutant Junior Shifter 80cc and Easytraining, the non-competitive class dedicated to the "aspiring" Easy drivers with session arranged in in the following way: in Castelletto, there will be a single 2 hour "open pitlane" session from 17:00 to 19:00 on Saturday 06/06 while in Adria three sessions are scheduled on both days.
For both collective tests, reservations will be required.
For Castelletto, the pre-registration form can be downloaded from the attachments at the foot of the page and must be sent, filled, no later than 03/06/2020 (included): once the request is received, the Easykart secretariat will send an e -mail with the procedure to complete the registration. The registration fee will be € 60.00 per day for all competitive categories while for Easytraining it will be € 40.00 for the day of Saturday 6 June.
During the Adria tests it will be possible to use the transponder and the live timing service will be available: it is possible to register exclusively via the link https://forms.gle/uYmCDDqMgRbZB3CJ9 andthe cost is € 60.00 per day (including transponder and live timing service) for all classes except Easytraining whose fee is € 30.00 / day.
A small first step for all of us, but a great leap towards a new normal: in order not to waste all the sacrifices made so far and, therefore, to get back to competing soon, it is important that we all observe the health safety protocols envisaged by national rules and available at this link:
http://www.acisport.it/public/2020/pdf/ACI-SPORT/2020_3643Mixed//Allenamenti_individuali_e_test_procedure__agg_18.5.20_allenamenti_test_procedure_operative_agg_2020_05_18.pdf.
It will not only be four days of testing, but a real restart, an opportunity to return to breathe the scent of motorsport after a period of forced inactivity of over three months: on both occasions, the race numbers used for the 2020 season will be assigned and Birel ART will attend the tests for assistance and resale of tires and spare parts.
Birel ART, promoter of the Trophy, is in contact with ACI Sport for the reception of the health protocols dedicated to the competitions, as well as with the track management for the final definition of the 2020 calendar draft. The wait is almost over … we will be back soon together (but at a safe distance) to practice the most beautiful sport in the world!
Stay racing, stay happy… and think Easy.
DOWNLOAD:
COLLECTIVE TEST REGISTRATION FORM CASTELLETTO DI BRANDUZZO::