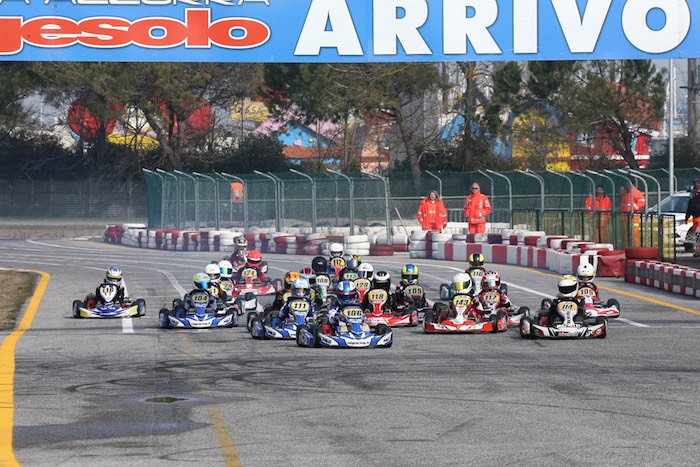 [translated with Google translate]
Everything is ready for the new Easykart season: after the excellent results of participation in the collective tests of 9-10 March, the action on the track is finally back with the first appointment, scheduled on the last Sunday of March on the " Pista Azzurra "of Jesolo.
In addition to the traditional Easytraining categories (all the indications for registration: https://www.easykart.it/d wholesale-news.asp?id=110), 60, 100, 125 and Senior, it will officially debut in a race weekend also the BMB Challenge – the new class characterized by the new generation BMB HAT engines, high performance and a prestigious final prize: the absolute winner of the Easykart Italia 2019 Trophy will take part in the "Trofeo delle Industrie" with the official Birel ART team Racing.
The Jesolo weekend will also represent the first "competition" opportunity for the selection of candidates for the second edition of the "Easykart Driver Talent", the reality designed and created to promote the talented drivers participating in the Italian Trophy in categories 60 and 100.
The two-day Jesolo program will be available soon and will see a single day of competitions (Sunday) while Saturday will be dedicated exclusively to tests (optional).
Confirmed in the paddock the historical and beloved photographer Easykart Daniele Ghinassi, the live timing service will also be YOU CRONO and the event will also be followed by the Facebook page and the Instagram account with photos, interviews and videos.
DOWNLOAD:
INFO POINT:
* Registration Fee
    * Categories Easykart 60/100/125 / Senior / BMB Challenge
        * € 120.00 + € 50.00 for track rental for Saturday (optional).
        * Registrations can be made directly on the track on Saturday or Sunday before the start of the warm-up at the race office
* 50 Easytraining
    * Free registration and runway ticket € 50.00 for Saturday and Sunday (€ 35.00 for a single day)
    * Engine rental is mandatory, to be made at the Birel ART facility Saturday and Sunday morning: € 50.00 per day.
    * Directions for registrations: https://www.easykart.it/d Otherso-news.asp?id=110
    * Race program Saturday and Sunday: 4 rounds + theoretical lessons; Sunday race simulations + prize for all participants
* Other categories on the track: Rotax
* Presence of the Birel ART structure for sales and assistance of spare parts and tires;
* Presence of an Easykart technical commissioner
* A dedicated area is planned for all Easykart teams where tents can be set up. Info and reservations contact:
Pista AzzurraVia Roma Destra, 9030016 Jesolo (VE) Tel: +39 0421 972471Fax: +39 0421 371309Site: www.pista-azzurra.com E-mail: info@pista-azzurra.com
* The award ceremony is mandatory and the interview with the winner is expected
* Mandatory photo profile session for the site with competition suit.