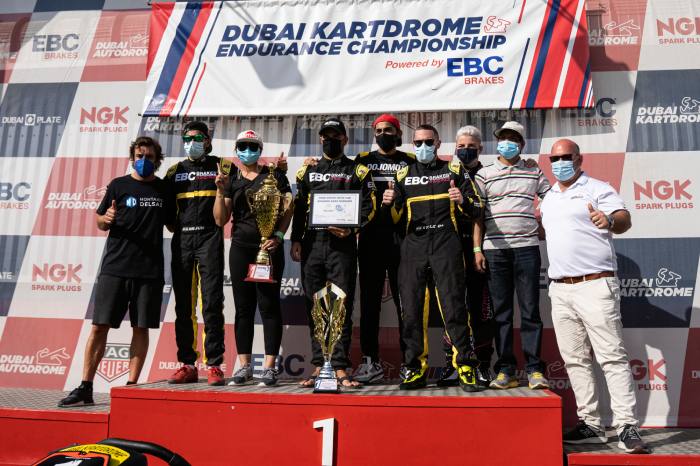 The final round of the 2021 Dubai Kartdrome Endurance Championship Powered by EBC Brakes ended in thrilling fashion with the top three teams on the same lap after a gruelling race.
On Saturday at 13:00 pm Dubai time, EBC Brakes Racing crossed the finish line not only to win the most prestigious karting race in the region but also to claim the 2021 Dubai Kartdrome Endurance Championship title which earns them a free ticket to the Spanish 12 Hours Karting at Fernando Alonso Circuit.
Speaking of the double F1 World Champion, who a week earlier was racing in the epic Abu Dhabi Grand Prix Formula 1 season finale, showed that he is a master in any form of racing.
The Spaniard led his team, including former F1 driver Pedro de la Rosa, F3000 ace Angel Burgueno and Bulgarian karting sensation Nikola Tsolov to pole position for the 17th edition of the race, after winning the grid deciding Sprint race to roars of approval from the crowd assembled at Motorcity.
That set the tone for the 28 teams to do battle, with Alberto Fernandez starting the race for Alonso's MD Racing and leading early on, setting the fastest lap of the race during that impressive stint.
What followed was an intriguing battle between half a dozen teams, as strategy combined with pace through traffic played a big role.
Among the leaders around the halfway mark were MD Racing, SuperDryver Maffi Racing, EBC Brakes Racing, PF Racing, Stop & Go Racing, Mirgap Racing, Fly Emirates Corporate and Porsche FANStastic who led the early stages of the race.
In the closing stages, the top three edged ahead by a couple of laps with EBC Brakes Racing maintaining and controlling a quarter lap lead which they held on to take an impressive victory by 25 seconds after 24 hours.
Drama ensued on the final lap of the 1132 laps, Alonso's MD Racing looked set for second but a stunning final stint by SuperDryver Maffi Racing saw them edge ahead with a couple of corners remaining, to steal second place by a mere 0.181s.
By the time the dust had settled on proceedings, the race and the big trophy belonged to newly crowned champions – EBC Brakes Racing – whose drivers Arjun Manjunath, Duarte Lopes, Boris Bovier and Mickael Mota proved to be the best of the best over a challenging 24 hours.
Their victory achieved despite the absence of regulars Anjum Sheikh and Kyle Kumaran who contributed, in the previous three rounds, to winning the 2021 Dubai Kartdrome Endurance Champions on Saturday.
Other Endurance Kartdrome Champions are Fly Emirates (EGKC). Mirgap Racing and Omantel Makasib 2
Stalwarts of the race since the first Dubai Kartdrome 24 Hours held 17 years ago, Fly Emirates (EGKC) did enough by finishing seventh overall to take the Corporate Team champion title, beating Hoxton Capital Management to the prestigious accolade.
In the Nations Cup, Portugal's Stop & Go Racing took top honours beating Lebanon's Cedar Racing and UAE's very own Mirgap Racing.
With their 11th position finish, Mirgap Racing claim the overall GCC Cup title, ahead of Oman Karting and Oman Makasib 2.
Reflecting on an intriguing finale, Kartdrome manager and race organiser David Bright said: "Big shout out to EBC Brakes Racing for a great 2021 campaign, they are worthy champions and signed off in style by winning this one after a 24-hour battle that had the top three in sight of one another on the final lap.
"And what a final lap that was by the SuperDryver Maffi Racing to take second place from Fernando Alonso's MD Racing team. You could not script it!
"A big shout out to Fernando for winning the hearts and minds of everyone who was in this race. He was engaging, friendly and relaxed. At the same time, he was super competitive and really wanted to win this one. Next time Mate!
"In closing a big thank you to all the officials, marshals, Kartdrome staff, the incredible drivers, their good-spirited teams, our sponsors EBC Brakes and all our partners for making this such a great event. We already look forward to the next one," concluded Bright.
Final words from Fernando Alonso: "It was really fantastic. It is really one of the moments of the year for us, a group of friends here together at the Kartdrome. We have so much fun. It's 24-hours of pure fun driving plus the atmosphere with the teams and drivers is really enjoyable. We will be back!"
Press Release © Dubai Autodrome