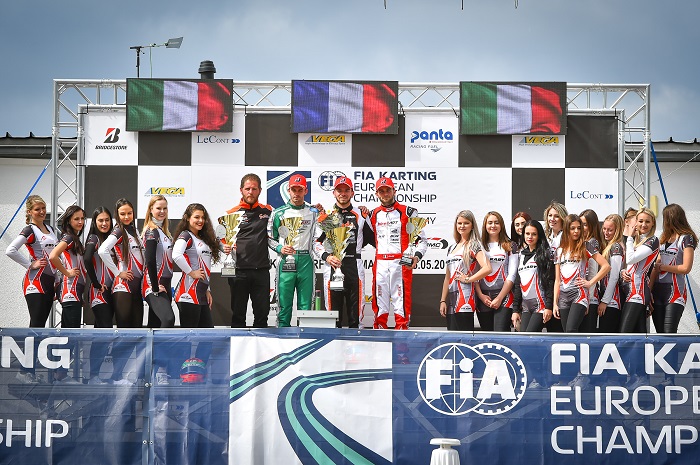 Frenchman Anthony Abbasse has been the winner of the first round of FIA Karting European Championship of KZ class at the German track of Wackersdorf. The Sodikart driver beat the Italians Matteo Viganò and Alessandro Irlando who completed the podium.
The day started with the victory for Matteo Viganò (Tony Kart/Vortex/B'stone) in the last qualifying heat. This heat victory put the Italian 3rd in the starting grid, just behind Dutch Jorrit Pex (KR/Iame/B'stone) and French Anthony Abbasse (Sodi/TM Racing/B'stone).
Most of the race was decided at the start of this one. Abbasse made a great start overtaking Pex and taking the lead. Pex immediately found himself attacked by Alessandro Irlando (Birel Art/TM Racing/B'stone) and Matteo Viganò. Both drivers overtook Pex for second and third place on lap 2.
Then, Irlando was closing the gap to Abbasse until he was attacked by Viganò who overtook his compatriot on lap 10. This move allowed Abbasse to take a crucial gap to secure the race victory.
Viganò also started to increase the gap between him and Irlando, securing the second and the third place.
The battle then was for fourth place with Jorrit Pex holding on his compatriot Bas Lammers (Sodi/TM Racing/B'stone). Despite the efforts from the Kart Republic official driver, Lammers finally passed Pex for the final fourth place.
Interesting race was the one done by Fabian Fededer (Maranello/TM Racing/B'stone) who finished ninth after a total comeback of 13 positions.
So at the checker flag, Anthony Abbasse celebrated a dominant win by more than 2 seconds over Matteo Viganò and Alessandro Irlando.
The next and final round of FIA Karting European Championship of KZ will be held at the classic venue of Naples International Circuit at Sarno, Italy.
PH: Sportinphoto