Saturday's qualifying heats at Sarno has been a very big show for Tony Kart drivers in KZ and KZ2 with Simo Puhakka leading the way in KZ, while David Vidales dominated in KZ2 wining all heats. In Academy disparity of winners opens up the pole position chance to many drivers.
KZ: Puhakka tries to dominate in Sarno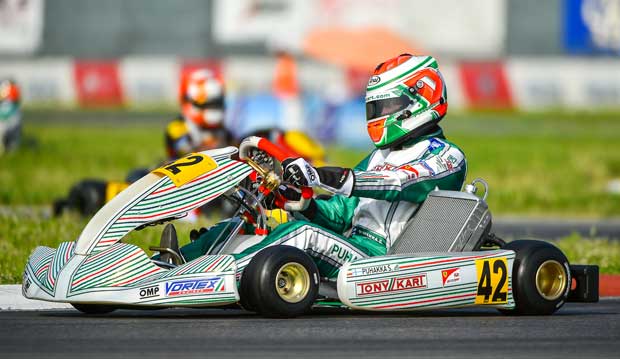 With two of the three qualifying heats taking part today we can clearly assume that no one knows how this championship is going to end up.
In the first qualifying heat, qualifying practice pole sitter Lorenzo Camplese (Tony Kart/Vortex/B'stone) managed to hold off the Tony Kart racing driver Simo Puhakka (Tony Kart/Vortex/B'stone) and Alessandro Irlando (Birel ART/TM Racing/B'stone) for the whole race.
But in the second heat, a difficult start from Camplese helped Irlando to take an early lead. Immediately on lap 2, Puhakka who took the victory here at Sarno in the WSK Euro Series, overtook Irlando for the lead on lap 3, and managed to stay in front of the Italian until the checker flag.
KZ2: Vidales in a class of his own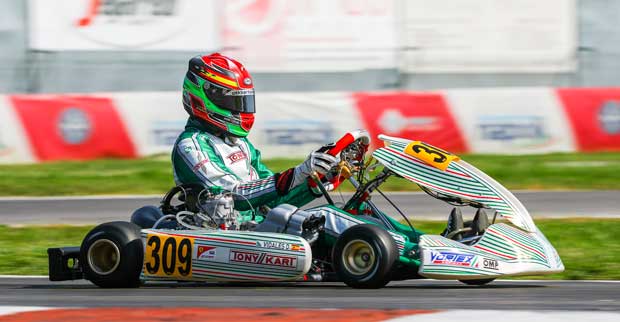 Jean Nomblot (Sodi/TM Racing/B'stone) was the first winner of the day in KZ2 class during heat B-D, the French driver was one of those to watch today. The Sodi racing driver always finished in top4 in the heats that he contested and tried to win as well in heat B-E in which he could not beat David Vidales (Tony Kart/Vortex/B'stone) by only one tenth.
Vidales was the sensation of the day in the paddock with a clear results domination. He was only beaten on track by Giuseppe Palomba (Croc Promotion/TM Racing/B'stone) during heat A-E. But a post-race penalty for the Italian gave the victory to Vidales.
Palomba despite this penalty, managed to fight back and win all the following heats to finish in a provisional fourth place overall. Also good day for Dutchman Senna Van Walstijn (KR/Iame/B'stone) who won two heats and always flighted for top spots which puts him on provisional second place.
Good performance also by Riccardo Longhi (BierAlrt / TM Racing) who, despite a difficult Qualifying that relegated him to the fourth row of the grid, manages to climb up positions in today's heats, finishing second twice and third twice.
Academy: Not a clear domination by any driver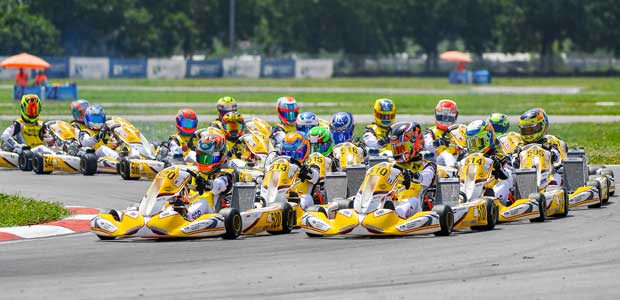 Very interesting day in Academy class where there has not been a clear domination by any driver.
The day started with a smashing pace by Kiwi Jacob Douglas (Exprit/Vortex/B'sone) and Ukrainian Oleksander Partyshev (Exprit/Vortex/B'sone) in heat B-C. Douglas pace impressed but he was not able to repeat it again on heat B-D where Kajus Siksnelis (Exprit/Vortex/B'sone) maintained the pressure from Robert de Haan (Exprit/Vortex/B'sone) for the heat victory.
De Haan who is leading the championship now after dominating in Wackersdorf showed that he is capable to repeat this dominant pace again, as he did during heat A-D winning by more than two seconds.
Finally, in the last heat of the day for the category, Oleksander Partyshev (Exprit/Vortex/B'sone) beat Christian Ho (Exprit/Vortex/B'sone) and is poised as one of the favourites for tomorrow's pole position.
PH: Sportinphoto