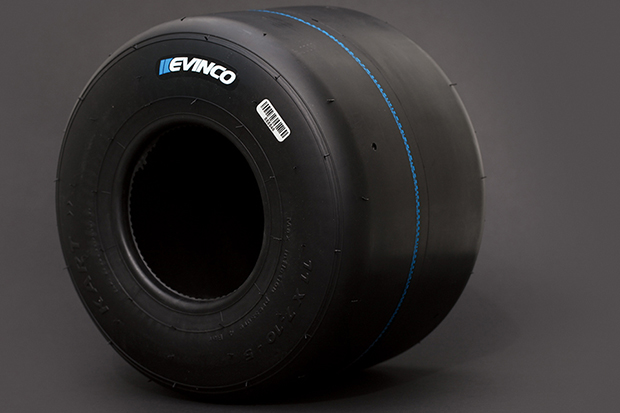 SKUSA continues long-time partnership with MG Tires into the future.
[divider style="dotted" top="10″ bottom="20″]
[one_half]
[dropcap]t[/dropcap]EMECULA, CA (November 6, 2015) – As part of the continuing evolution of the Superkarts! USA platform, series principal Tom Kutscher is pleased to announce that the SKUSA Fikse Wheels Pro Tour and regional ProKart Challenge programs will be running a new spec tire in 2016 and beyond. In working closely with long-time partner, MG Tires, the two companies have reached a mutual agreement, which will see Superkarts! USA launching its own specific tire for competition: Evinco. The tire will continue to be manufactured to SKUSA's exact specifications by long-time partner, MG Tires. Over the past three years, MG Tires provided SKUSA with their custom-badged MG "SK" White tire for the Stock Moto and TaG categories, and this partnership will continue with the new Evinco line of tires. Evinco will be an exclusive brand and distributed only by Superkarts! USA.
"Over the past few years, we have been dedicated to developing strength and stability to the foundation of the Superkarts! USA program," offered Tom Kutscher, commenting on the launch of the new Evinco tire program. "Our long-running partnership with MG has been an important component to our success. Being able to maintain this relationship with our Evinco tire program is crucial. Having complete control of our program will allow us to grow and provide stability to our national series, regions, and customers. It will also give us the ability to support the ever-expanding Superkarts! USA organization going forward."
The tire program will begin with a simple re-branding of the current MG-SK models that are utilized in Superkarts! USA competition, putting the Evinco name on the tires that will be used by SKUSA racers next year and for years to come. As classes and formulas dictate, SKUSA may work hand-in-hand with MG to develop a racing tire specific to SKUSA competition and the future needs of its racers.
"Having our own tire, with a dedicated partner standing behind it, is the best of both worlds," concluded Kutscher. "MG
[/one_half]
[one_half_last]
recognizes our particular way of doing things and will give us the autonomy to build and promote our own product. Yet, at the same time, we have the full faith and confidence of delivering a product to our racers that is absolutely second to none. I'm excited to see how the Evinco product and brand will evolve in the future."
For 2016, SKUSA will spec the use of two distinct Evinco tire models. The Evinco Red is a medium compound that will be run in all shifter and TaG classes, while the Evinco Blue is the harder compound model that will be available in 4.6/6.0 sizing for TaG Cadet as well as the new popular Briggs and Stratton classes. SKUSA will continue to spec the MG-WT rain tires for wet weather conditions.
"The MG relationship with Superkarts! USA has a long history, and during this time we've been working together, growing. We are focused on continuing our partnership for years to come," commented Marcelo and Gianfranco Ventri, the owners of MG Tires. "We are happy to be working together with SKUSA in this new phase. Tom is passionate about the sport and is committed to his work. He has great confidence in our product, which leaves us very excited to work increasingly hard in supporting this partnership."
The new tire program will further develop Superkarts! USA's efforts to manage all facets of its operation. During this month's running of the annual SuperNationals, the final race of the Fikse Wheels Pro Tour, Evinco will be positioned as the Presenting Sponsor of the event to develop branding and awareness for the new tire. SKUSA is planning additional announcements for the upcoming weeks, as it prepares to complete the 2015 season and then put all of its efforts on solidifying as well as expanding its platform for 2016.
For more info on anything related to Superkarts! USA, please visit the website – www.superkartsusa.com and be sure to follow the Superkarts! USA Facebook page and Twitter account – or call the SKUSA head office at 951-491-0808.
[/one_half_last]
[box type="shadow"] Fonte: info@superkartsusa.com[/box]
[divider style="dotted" top="10″ bottom="10″]