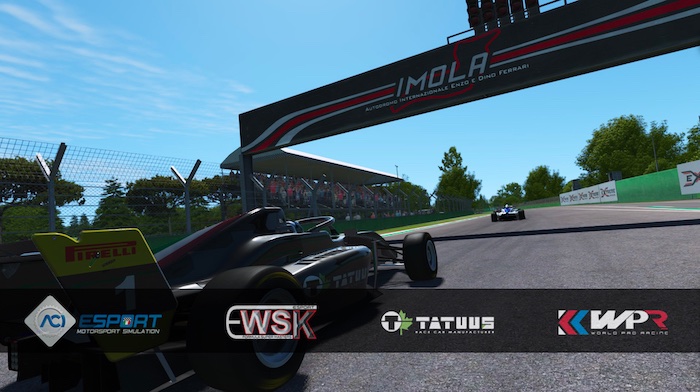 At the end of two races in which the twists and turns were not lacking, the Dutchman David Liwinski and the Russian Ivan Berets won the two Finals of the EWSK Formula Super Master held on the virtual circuit of Autodromo Enzo and Dino Ferrari in Imola during the evening on Saturday 23 May. The event organized by WSK Promotion, together with partners Tatuus and World Pro Racing, thus comes to an end, after having received excellent feedback in terms of views and a large participation by the drivers, many of whom come from the WSK Promotion series, from kart to Formula 4 and Formula Regional.
And indeed a kart driver stole the show, namely David Liwinski, thanks to its victory (with best-lap) of Race 1, won starting from pole position, and the second place obtained in Race 2 behind Ivan Berets. The Russian in strength of the DRZ Benelli team and among the protagonists of the Italian F.4 Championship powered by Abarth, went through the Tamburello in first place and won with almost a three seconds lead after having scored the fastest lap.
Things didn't quite go as expected for Luis Felipe Capamadjian and Yaroslav Shevyrtalov, among the favorites of this EWSK Formula Super Master after the excellent performances in the previous qualifying races. For the Peruvian, a contact in the very first stages of Race 1 deprives him of the chance to fight for the win and forces him to race all the way up to third place, while in Race 2 he is forced to retire, always due to a collision.
Shevyrtalov wasn't very lucky either: the Russian even ran out of fuel a few meters from the finish line of Race 1 (the realism provided by the rFactor 2 platform, thanks also to the work of WSK Promotion, ACI Sport and Tatuus, was definitely one of the aspects that most characterized this EWSK) and things didn't improve in Race 2, where he was forced to start from the pit lane.
Sebastian Ogaard, hired by Bhaitech Racing to compete in the Italian F.4 Championship powered by Abarth, made the most out of it and got on the podium in both races (2nd in Race 1 and 3rd in Race 2).
Among the kart drivers, it's worth mentioning the excellent performance of Andrey Zhivnov (4th in Race 1 and 6th in Race 2) and Alex Dunne, 7th at the end of Race 2 after coming close to a top-ten finish in Race 1.