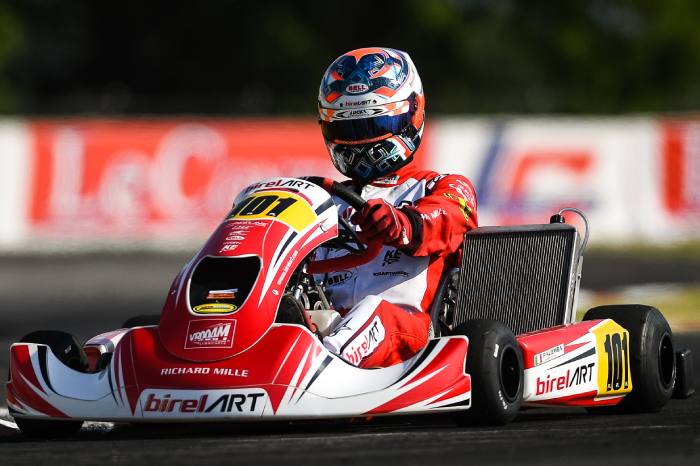 After a successful meeting in Lonato, the WSK Euro Series confirmed its status as a very high-level competition in 2022 at the final event organised at the end of July in Sarno in scorching heat. The manufacturer LeCont played a major role in the success of this series by ensuring impeccable performance in the KZ2 category, marked by constant duels between the main international teams and their talented drivers. LeCont is ready for the FIA Karting event in Le Mans, which is approaching rapidly.
With its layout of long, fast corners, constant direction changes and powerful braking, the Sarno circuit puts tyres to the test, especially when the air and ground temperatures reach record levels. "As in Lonato, LeCont draws a positive balance from this event and from the continuation of its partnership with WSK Promotion, which, I remind you, extends over the whole season," said Paolo Bombara, Marketing Manager at LeCont.
"We were delighted to see a great show in KZ2. Many teams were able to show their competitiveness and enter the top 10 between the Timed Qualifying sessions and the Final, such as KR Motorsport, CRG Racing Team, Birel ART Racing, Tony Kart Racing Team, CPB Sport, DR srl, Leclerc by Lennox Racing, Modena Kart and IPK Official. Our objective was to be able to see very small gaps between the drivers throughout the meeting. This goal was achieved. Moreover, the pole position time achieved by Giuseppe Palomba in Timed Practice, 54″032, was beaten in a heat, in the Prefinal and then in the Final. This is clear proof of our production unit's ability to produce consistent tyre performance throughout an event. Congratulations to the drivers and the teams who perfectly exploited the qualities of our products, while managing the ambient heat."
An intense WSK before the World Championship
After taking over from Giuseppe Palomba in the lead of the race in the Prefinal, Danilo Albanese made a clean sweep in the Final. Paavo Tonteri climbed back to 2nd place ahead of Palomba, who remained focused on winning the title. 3rd in 2021, Palomba wins the 2022 WSK Euro Series ahead of Albanese and Tonteri. These three drivers represented different teams and chassis brands.
"As was the case at the beginning of the season in the OK category during the WSK Champions Cup and the WSK Super Master Series, we are very happy with the way the WSK Euro Series in KZ2 went. Satisfaction was the order of the day from the competitors. The event remained open until the end! This promises a high quality KZ World Championship, KZ2 World Cup and FIA Karting Master International Super Cup on the Le Mans circuit from 2nd to 4th September. LeCont will be ready with its Prime tyres. We are looking forward to this major event of the season, during which we will also equip the third and final round of the Academy Trophy with our Option tyres."
Press Release © LeCont