[Translated with Google]
Tyres: MG Tires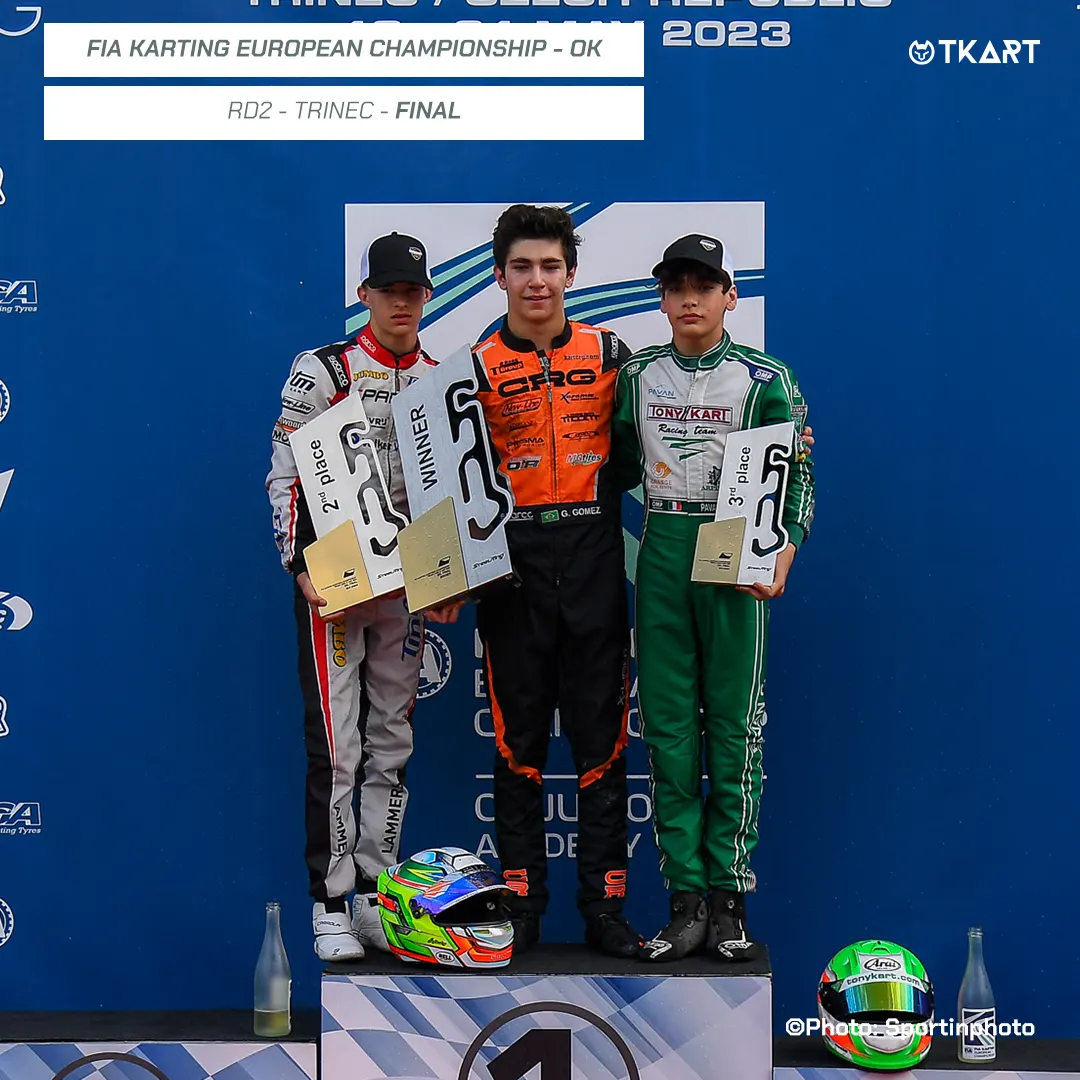 There are no words to describe the incredible weekend of Gabriel Gomez (CRG Racing Team – CRG – IAME). The Brazilian was practically flawless: pole position, five victories (and five fastest laps) in the qualifying heat, first in super heat A (always with the best lap) and the definitive seal in the final, always seasoned with the best time in the race.
When the traffic lights went out, Gomez immediately took the reins of the race and began a solo race. Consequently, all the attention of the public shifts to the battle for second place involving Tomass Stolcermanis (Energy Corse – Energy Corse – TM), René Lammers (Parolin Motorsport – Parolin – TM) and Alex Powell (Prema Racing – KR – IAME).
Of the three, Powell was the fastest: the Jamaican decisively overtook Lammers on lap 7, then slipped a struggling Stolcermanis on lap 12. The Prema Racing driver, winner of Round 1 of the KZ2 FIA Karting European Championship a month ago, is second under the checkered flag, but a 5-second penalty for the nose in the incorrect position takes the podium out of his hands.
Lammers also overtook Stolcermanis and finished third, then promoted to second position. An important result for the Dutchman, who confirms his second place in the championship.
Another solid test by Sebastiano Pavan (Tony Kart Racing Team – Tony Kart – Vortex), who has now become one of the protagonists of the category in the last month. The Italian catches (and overtakes) Stolcermanis and, thanks to Powell's penalty, conquers the lowest step of the podium.
Bad luck hit Stolcermanis on the last lap with a problem with his engine. The Latvian manages to reach the final goal, but sinks to 14th place.
An extremely positive weekend for both Ean Eyckmans (Ward Racing – Tony Kart – Vortex) and Fionn McLaughlin (VDK Racing – KR – IAME), respectively fifth and sixth classified. Kean Nakamura Berta (Prema Racing – KR – IAME) starts 14th and finishes fifth, but then slips to seventh in the post-race due to a badly positioned nose and the related 5 second penalty.
The classification of the top ten also sees Mark Dubnitski (CRG Racing Team – CRG – TM), eighth, Miguel Costa (Parolin Motorsport – Parolin – TM), ninth, and Gustav Wisniewski (Forza Racing – Exprit – TM), tenth. Nathan Tye (Sodikart – Sodikart – TM) loses 7 positions and finishes 11th, ahead of world champion Matheus Morgatto (Birel Art Racing – Birel Art – TM), 12th due to the 5-second penalty received for the nose.
Considerable comeback of 18 positions for Shimo Zhang (DPK Racing – KR – IAME), 13th. Joseph Turney (KR Motorsport – KR – IAME) also climbs the standings up to tenth place, but also the British – winner of Round 1 of Valencia – gets 5 seconds for the nose and is classified 15th.
An accident at the first corner puts David Walther (Koski Motorsport – Tony Kart – Vortex) and Luka Sammalisto (KR Motorsport – KR – IAME) out of contention, however able to finish the final although at the bottom of the standings.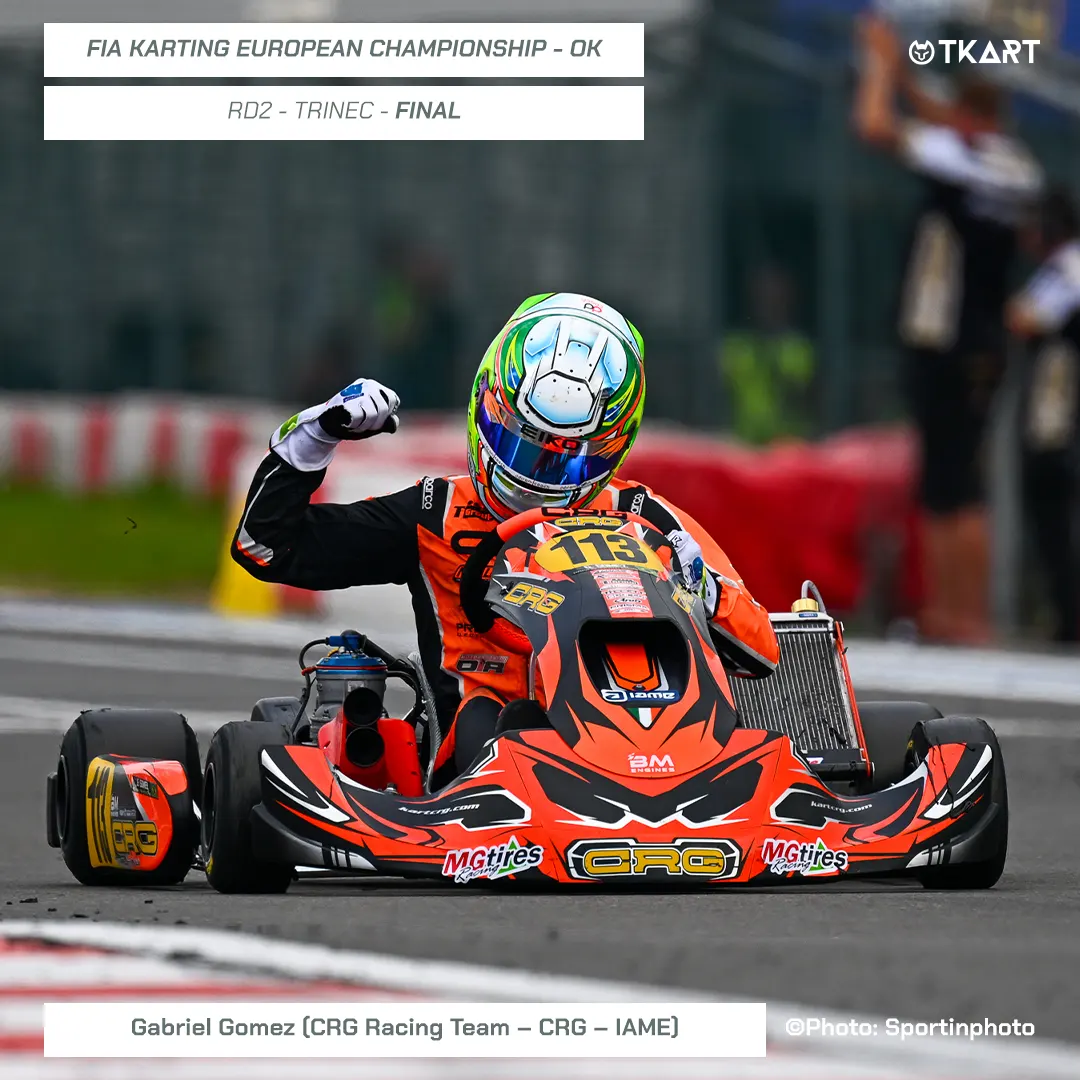 ©Photo: Sportinphoto