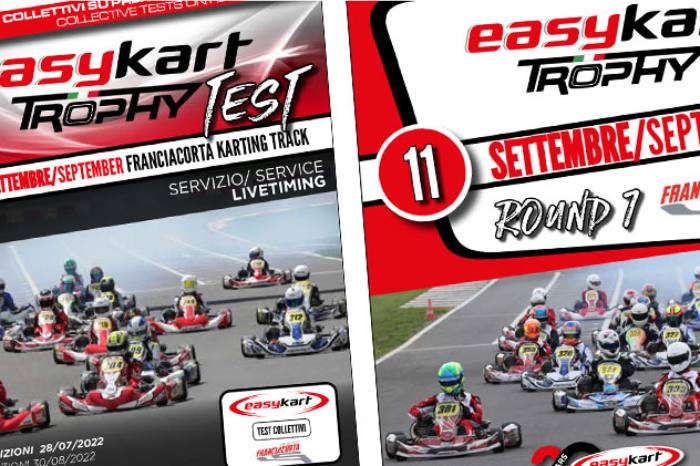 [translated with Google]
All information on collective tests and the last round of the Trophy.
After an exciting season with spectacular races and fiery duels, the fight for the title of champion enters its last and decisive act: on September 10 and 11 the 2022 Easykart Trophy champions will be decided on the Franciacorta Karting Track in Castrezzato (Brescia).
Final weekend that will be anticipated by collective tests that will always be held in Castrezzato the previous weekend, Saturday 3rd and Sunday 4th September.
Info point test September 3-4
For the Easykart 60, Easykart 100, Easykart 125 and BMB Challenge categories the daily track ticket will be € 65.00 per day, live timing included, while for the 60 Academy the cost will be € 40.00/day – including transponder. Finally, for the 50 Training the tests will be held on Saturday and the cost is € 100.00 (track ticket, engine and fuel rental).
Registrations can be made exclusively online on the website https://www.franciacortakartingtrack.com/ starting from 04/08 up to and including 31/08.
The Birel ART structure and staff will not be present at the tests because they will be involved in the FIA ​​Karting World Championship in Le Mans. However, the sale of tires will be guaranteed (while stocks last).
Info point 7th round on September 10 and 11
Registrations can be made exclusively online on the website https://www.franciacortakartingtrack.com/ up to and including September 5th and payment can be made by bank transfer or credit card.
The cost is € 170.00. It is also possible to register for the tests on Saturday 10/09 at a cost of € 60.00.
The live timing and the results will be available on the website www.easykart.it, while the petrol station attendant is Olmi Castrezzato (95 octane petrol).
Starting from the afternoon of Friday 09/09, the Birel ART structure will be present for the resale of spare parts and tires, as well as for technical assistance.
At the end of the qualifying tests, the traditional photo of the top 5 in each category will be held. For information regarding the booking of the tent and camper place, contact the track directly at the following contacts:
[email protected]
Tel. +39 030 7040677
The Easykart paddock is now on vacation, with the Birel ART offices that will be closed from August 5 to August 28: it's time to charge the batteries during the summer break with your families and friends to get more motivated than ever for the last intense and decisive round of the Easykart Trophy!
Happy holidays to all. Stay racing, stay happy… and think Easy!
Press Release © Easykart