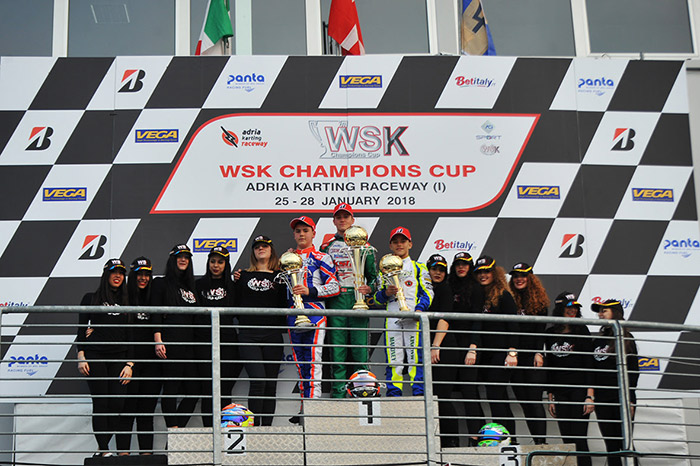 The first top drivers of 2018 have been named by the WSK Champions Cup.
The start to the new season of international karting has been successful at the Adria Karting Raceway, the track that has staged this weekend the WSK Champions Cup. The positive response from teams and drivers coming from all over the world has been the best possible start of the new season, which will continue with the opener of the WSK Super Master Series, scheduled for next week on this very same Italian circuit.
Nielsen dominates the OK opener.
The Dane Nicklas Nielsen (Tony Kart-Vortex-Bridgestone, in the photo on top), who has been leading since heats, has kept his momentum in Prefinal A, taking the win ahead of the Italian Lorenzo Ferrari (Exprit-Vortex). The British driver Jonny Edgar (Exprit-TM) has challenged him, winning Prefinal B from the Czech Roman Stanek (Kosmic-Vortex), but Edgar saw Nielsen getting the lead in the Final, followed by Ferrari in second. The third place went to Barbados' driver Zane Maloney (FA Kart-Vortex).
Aron ruling OK Junior.
The victory of OKJ was battled out by the British driver Harry Thompson and the Estonian Paul Aron (both on FA Kart-Vortex-Vega), that respectively ended Prefinal A in second and third place, behind the Italian Gabriele Minì (Parolin-Parilla). When the latter slipped down the pack in the Final, Aron and Thompson pulled away, exchanging positions on top. Aron (on the podium, above) eventually claimed the win from Thompson. The third place went to the Russian Kirill Smal (Tony-Vortex), who had been second in Prefinal B.
Vasile clinching the win in KZ2.
A good start was not enough: the Swede Emil Skaras (Energy-TM-Bridgestone) led qualifying heats and Prefinal, but slipped down the field early on in the Final. The Romanian Daniel Vasile (DR-Modena, above, on the top of the podium) had a good jump off the line instead and got the lead of the Final, keeping it throughout. The 2nd and 3rd place went to the French Tom Leuillet and Adrien Renaudin (Sodi-TM), that held the same places at the end of the Prefinal too.
Antonelli fights and wins 60 Mini.
The Norwegian Martinius Stenshorne (Parolin-TM-Vega), who was the best of the lot also in the heats, and the Italian Andrea Antonelli (Energy-TM) had the upper hand in the two 60 Mini Prefinals, before challenging each other in the Final: after several overtaking moves on top, Antonelli managed to win this battle though. The second place went to Stenshorne and the third to the Italian Brando Badoer (Parolin-TM), who is the son of former Ferrari F.1 driver Luca Badoer. Above, the podium of 60 Mini.