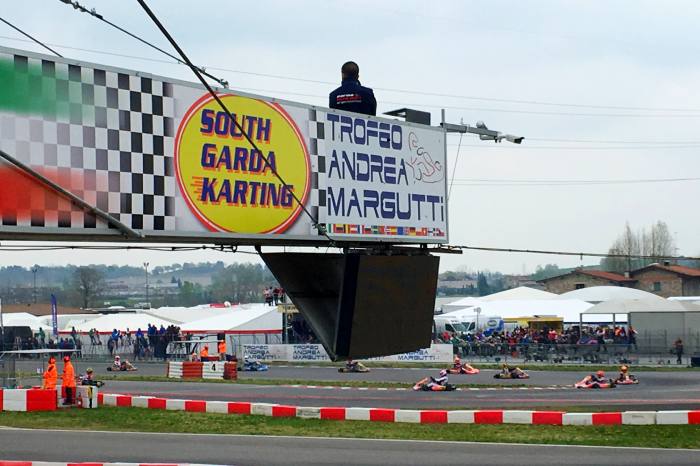 The race is scheduled for May 2nd at the South Garda Karting circuit in Lonato. Entry caps apply to categories MINI, OKJ, KZ2, IAME X30 Junior and X30 Senior. The entry deadline is on April 23rd.
The entry list of the 32nd Andrea Margutti Trophy, race organized by Parma Motorsport for April 30th – May 2nd at the South Garda Karting Circuit in Lonato, is shaping up as 200 drivers have already entered the race.
The presence in MINI Gr. 3 is excellent and all the main drivers of the category will be present, as the most important teams like Team Driver, Baby Race, Gamoto, Formula K Serafini, Zanchi Motorsport, Kidix, Revolution Motorsport, Ward Racing, AV Racing, Emme Racing and
Sauber Orlen Karting Team among the others. A lot of young drivers have displayed a good competitiveness in this first part of the season, starting from the winner of last year's Andrea Margutti Trophy René Lammers, the Czech Jindric Pesl, Enzo Tarnvanichkul, Griffin Peebles, Emanuele Olivieri, Tiziano Monza and Niklas Schaufler, but several other drivers certainly have what it takes to shine.
Among the most competitive in KZ2, the 2020 winner of the Andrea Margutti Trophy Senna Van Walstijn will be competing for team CPB and the International Super Cup 2019 champion Emilien Denner for Intrepid, William Lanzeni for Righetti-Ridolfi, Massimo Dante for Maranello Kart, while other drivers will try and challenge them for the top. The Croatian driver Kristijan Habulin will honour again this edition of the Andrea Margutti Trophy with TB Kart, after winning it in 2013.
The two categories IAME X30 are going to be particularly packed. Several big names decided in fact to compete in the Junior and Senior categories. In Senior, Vittorio Maria Russo will be on TB Kart, who won the title back in 2017 at the first year of the category in the Trophy. David Locatelli and Mattia Ingolfo will compete for Zanchi Motorsport, Danny Carenini, Andrea Moretti (2018 winner) and Arnaud Malizia for Autoeuropeo, Valentino Baracco for Novalux, Manuel Scognamiglio will debut in the Senior category with Gamoto, Giuseppe Gaglianò for New Technology, Cristian Comanducci and Federico Rossi for PRK and Brandon Maisano for Intrepid.
In X30 Junior, Sebastiano Pavan and Francesco Marenghi are going to compete for Team Driver, Samuele Leopardi for Zanchi Motorsport, Riccardo Cirelli for Autoeuropeo, Andrea Pirovano for Feroce Motorsport and Alessandro Minetto for Gamoto.
The deadline to submit entries is set for Friday, April 23rd. The entry procedure is available at www.trofeomargutti.com.
The event has the following caps:
72 drivers, MINI Gr.3
54 drivers, KZ2
72 drivers, X30 Senior
54 drivers, X30 Junior
34 drivers, OK-Junior
For information, please visit www.trofeomargutti.com
Press Release © Parma Motorsport