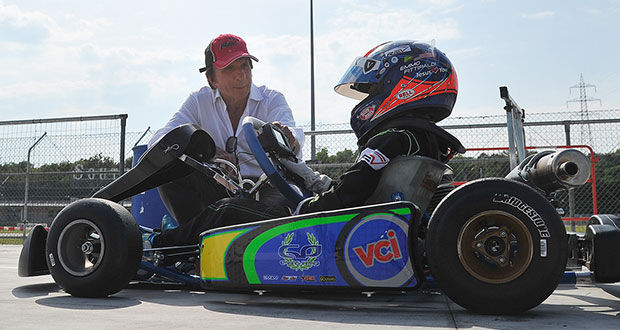 Interesting races are ahead at the South Garda Karting as 263 drivers have been verified for the races of Sunday July 3rd of Rok Cup and of the Regional Championship. The two times F1 World Champion Emerson Fittipaldi present to assist his son competing in Mini Rok.
[divider style="dotted" top="10″ bottom="20″]
[one_half]
[dropcap]T[/dropcap]he 3rd Summer Trophy to be held at the Circuit South Garda Karting of Lonato started on a high also in this season, as a stunning total of 263 drivers have been verified for the Rok Cup Italia Area North's categories and for the national categories, that will compete in the final and decisive round of the Regional Championship Lombardia.
These important numbers improve the figures recorded last year, considering that about sixty of the 301 drivers present in 2015 were competing for the Rotax Trophy, race that this year has already been run in April.
Of the 263 drivers present in this third edition of the Summer Trophy, 165 will compete in the Rok Cup and 98 in the national categories of the Regional Championship. In Rok the highest number of drivers has been recorded in Mini, that counted 51 verified drivers, while Junior had 37, Senior 33, Super 20 and Shifter 24. Regarding the national categories, 29 drivers will be on the KZ2 grid, 22 on Prodriver Under's, while 24 will compete in the Prodriver Over, 11 in Club, 4 in 60 Mini and 8 in the Entry Level.
Among the drivers present in this round of Lonato, some youngsters are following the footsteps of their famous parents in international motorsport, like the two times Formula 1 World Champion and two times winner of the Indianapolis 500, the Brazilian Emerson Fittipaldi, who is supporting his 9yrs old son "Emmo" Emerson in Mini Rok. Former F1 driver Jarno Trulli is also supporting his son Enzo who is often present in Lonato and will be racing in Mini Rok.
[/one_half]
[one_half_last]
Saturday's qualifying highlighted the first victory contenders on track. The quickest of KZ2 has been Giacomo Pollini (Tony Kart-Tm) in 46.340s, who was followed by Maranello Kart's drivers Alberto Cavalieri and the Austrian Christoph Hold, both on Maranello-Modena. The other two Maranello Kart's drivers Massimo Dante and Marco Zanchetta, often among the main protagonists of Lonato, hit some troubles instead and currently hold P14 and P16.
The pole position of Prodriver Under went Matteo Salvetti's ways (Parolin-Tm) who was quickest in 47.850s, while the quickest time of Prodriver Over was posted by Andrea Tonoli (CRG-Tm) in 47.823s, that of 125 Club by Mattia Rossetti (Tony Kart-Vortex) in 48.758s, and that of 60 Mini by Mattia Vischi (Intrepid-Tm) in 56.559s.
Regarding Rok Vortex categories, the quickest of Shifter Rok was Federico Squaranti (Tony Kart) in 47.173s, the fastest time of Mini Rok Series 1 was posted by Cristian Bertuca (Ricciardo) in 55.063s, while Enzo Trulli (Tony Kart) topped Mini Rok Series in 54.988s. Matteo Nannini (FA Kart) was the quickest of Junior Rok Series 1 in 49.124s, while Francesco Pagano (Tony Kart) was on top of Junior Rok Series 2's charts in 49.222s, as Giorgio Molinari (Tony Kart) claimed Senior Rok's pole position in 48.458s, and Marco Moretti (Tony Kart) Super Rok's in 47.543s.
The programme of the 3rd Summer Trophy schedules heats, Prefinals and Finals for Sunday July 3rd. Prefinals and Finals will be available through Live Streaming and Live Timing at www.southgardakarting.it.
[/one_half_last]
[box type="shadow"] Fonte: Ufficio Stampa South Garda Karting southgardakarting.it[/box]
[divider style="dotted" top="10″ bottom="10″]