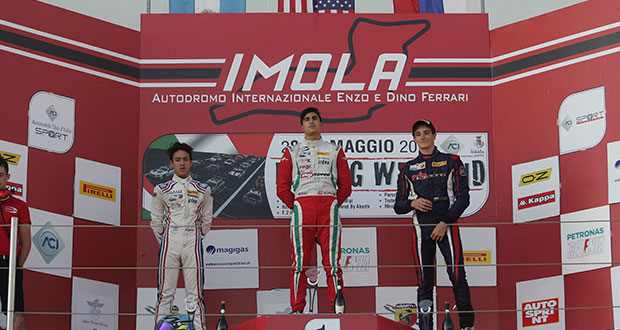 The asphalt was still partly wet when the decision was made to start the race behind the Safety Car. Finishing behind Correa were Diego Ciantini and Yan Shlom. Lorenzo Colombo and Artem Petrov finishing second and third in the Rookie Trophy.
[divider style="dotted" top="10″ bottom="20″]
[one_half]
[dropcap]A[/dropcap]s in Race 2, Race 3 also started behind the Safety Car which came into the pits on the second lap. The first action saw Correa (Prema Power Team) get past the Russian Yan Shlom (RB Racing) who started from pole courtesy of the top ten grid positions being inversed from the result of race 2.
The uncertain conditions on the circuit saw many nervous passing manoeuvres; one of these saw the Canadian Devlin De Francesco (Kfzteile24 Mücke Motorsport) leave the circuit obliging the Safety Car to return to the track to lead the pack. On the fourth lap, this third race saw a new battle emerge between Shlom and the Argentine Diego Ciantini (Jenzer Motorsport) for second place in the race; going into the sixth lap of the Imola circuit, Ciantini left the circuit on
[/one_half]
[one_half_last]
the main straight which saw the Race Director put out the red flag to decide the race.
The classification was therefore as per the end lap 5; Raul Guzman (DR Racing) taking fourth, followed by Marcos Siebert (Jenzer Motorsport), Mick Schumacher (Prema Power Team), Job Van Uitert (Jenzer Motorsport), Ye Yifei (Kfzteile24 Mücke Motorsport), Lorenzo Colombo (BVM Racing) and Joao Vieria (Antonelli Motorsport).
Fabienne Wohlwend won the Women's Trophy.
The complete results are available on acisportitalia.it/F4.
The next round of the Italian F4 Championship powered by Abarth will be held at the Mugello circuit on July 15-17.
[/one_half_last]
[box type="shadow"] Fonte: acisportitalia.it ; f4championship.com   [/box]
[divider style="dotted" top="10″ bottom="10″]