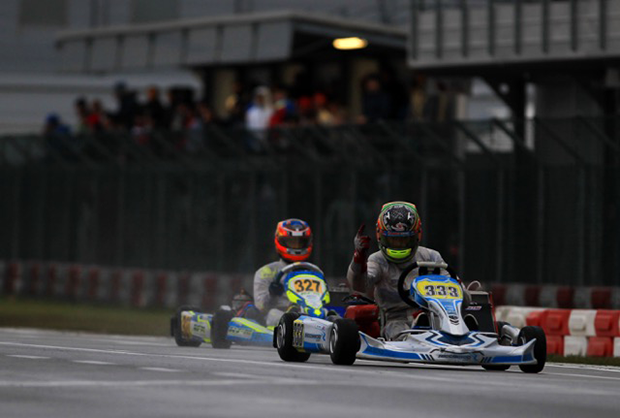 MB Partners young driver Kiern Jewiss has stamped his mark on the European karting circuit by winning the prestigious WSK Champions Cup race in Adria (Italy).
[divider style="dotted" top="10″ bottom="20″]
[one_half]
[dropcap]T[/dropcap]he first race on the European calendar did not start smoothly for the 13 year old driver. He struggled for pace in testing and qualifying and was in doubt as to how this weekend would pan out.
Qualifying a lowly 40th out of 67 gave the youngster a lot of work to do to achieve the top step by the end of the weekend. Throughout the heats Kiern was the only driver to consistently make up 8 places every race.
A mistake in heat 2 left the driver with a broken front bumper; under new FIA ruling this meant he was awarded with a 10 second penalty dropping him back down the grid. Kiern's pure desire to win didn't let it stop him, he worked hard with the team to improve himself and as a result his pace began to match that of the leaders.
Starting P13 on the soaking wet Adria circuit left the young driver with a big task to fulfill. Carving his way through the field up to 8th in the first lap he became caught up in a 4-kart battle allowing the leaders to break away. Once Kiern passed the battling group he set about chasing the front pack down but with only a few laps left, the best could achieve was a 5th place finish.
For the main final this left a determined Kiern on row 5 starting P10, again giving himself some work to do. From the start he moved swiftly in to P7.
[/one_half]
[one_half_last]
Once the youngster got into his rhythm, the Maidstone based racer began to pick the front runners off one by one, and quickly found himself in P2 chasing the leader.
Kiern made his move on the lead driver in his signature style, on the last lap with 3 corners to go, leaving the second place driver having no chance of making an attack.
The young superstar commented after the race – "I didn't expect this at all coming into today. When I qualified 40th I wondered how I was going to find the pace. But I have to say the team did a great job. They worked with me all week and we finally did it, so a huge thanks to them. Coming away with a win in my debut OKJ race is a fantastic feeling. But there is always room for improvement, so we must now work harder, again, as a team and see how the next round at Lanato goes"
Kieren Clark (MB Partners) added – "This just shows what Kiern is about. He might have been having a tough time at the beginning of the weekend but you can guarantee he will work as hard as possible to get to the front. His focus and determination is what sets him apart from the rest.
Kiern's next race with the Ricciardo team will be at the Winter Cup, Lanato (Italy) 20th-21st February.
[/one_half_last]
[box type="shadow"] Fonte: [email protected][/box]
[divider style="dotted" top="10″ bottom="10″]