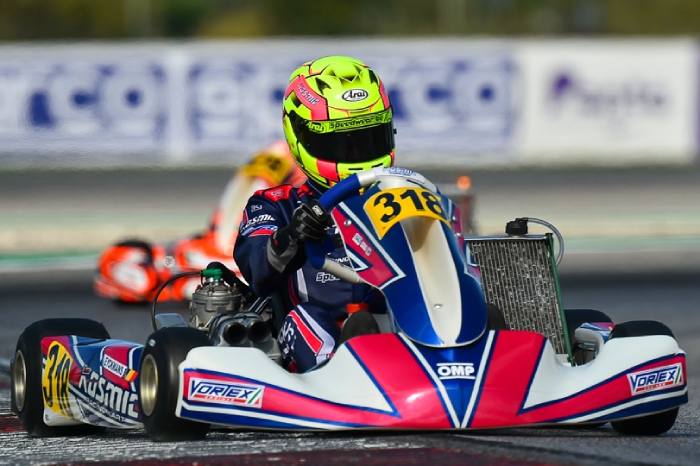 Our Kosmic Mercury R chassis leads the OKJ class on the occasion of the second event of the WSK Open Cup. Freddie Slater is the fastest driver in Friday's qualifying and after a perfect race, he wins the final.
Another excellent performance for Kosmic Kart arrives on the occasion of the second round of the WSK Open Cup at the Adria Karting Raceway. Our Kosmic Mercury R wins everything that is possible to win with Freddie Slater, in pole position on Friday and first on the finishing line of the final in OKJ class. The Kosmic Racing Department achieves the Top 5 in the same category, with the unfailing support of Vortex Engines and its DJT engines. Space also for some interesting results in OK, here with the DST engines of Vortex.
In OKJ class, Ean Eyckmans, after a difficult start in the qualifying sessions and qualifying heats, clearly accelerates his pace on Sunday when he gains 6 positions in the pre-final and moves into the Top 5 in the final. At the top of the ranking of the most important race of the weekend we find another Kosmic Mercury R powered by Vortex DJT. It is driven by the Briton Freddie Slater (Ricky Flynn Motorsport), the real star of the category: pole position, five victories out of five eliminatory heats (and one fast lap), win and best lap in the pre-final are the results he obtains before the final. The European champion makes no mistakes even in the race that counts the most, dominating the race, a result that gives him the third place in the championship.
In OK, Liu Ruiqi starts the weekend in a crescendo and improves from heat to heat, until he qualifies for the final. The last race of the weekend is stopped due to an accident in the early laps, but our Chinese driver does not lose his concentration and, when the green flag comes out, he climbs 11 positions and almost reaches the Top 20. Menyhért Krózser debuts in the master class of single speed karts and immediately celebrates his access to the final, at the first attempt.
The Kosmic Racing Department goes back on break again, before going on track at the end of the month. On the Spanish circuit of Campillos the FIA Karting World Championship will take place (October 28th – 31st) for the OK and OKJ classes.
Press Release © OTK Kart Group