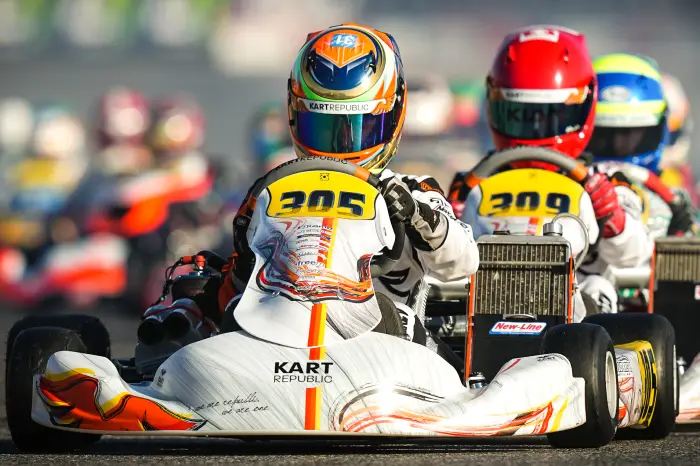 Officially presented at the end of 2017, the KR brand has had a meteoric rise, winning three FIA Karting World Championships and no less than seven European Championship titles in just five seasons! The Italian factory's chassis and all the teams representing the Kart Republic colours are back for another season, which promises to be even more successful. The first races in 2023 have already demonstrated this…
Winning technology
KR chassis began to dominate the podiums at the Winter Cup in Lonato in January, and this continued the following week at the WSK Champions Cup. From Mini to KZ, the Italian brand is well represented at the forefront, in line with the technical and sporting guidelines set by its manager Dino Chiesa. "The major international events are obviously very important to demonstrate our expertise. Throughout the year, all the members of the KR Motorsport team work hard to achieve our ultimate goal, which is to win and take titles."
"All this experience gained at the highest level and this technology that is constantly evolving with the aim of being ever more effective is indispensable to us in order to market products capable of satisfying drivers all over the world, whether they drive for leisure or in competition. Our greatest satisfaction is to find the messages coming from our distributors and teams using the KR chassis at the beginning of each week on social networks or in our mailbox, when they send us the good results of their drivers."
Congratulations to the KR Motorsport drivers
During the first weekend of February, the drivers of the official KR Motorsport team had a lot of experience in different categories, as Joe Turney had done at the very beginning of the season by winning in the United States in the IAME Winter Series at Miami-Homestead. At the WSK Super Master Series in Lonato, Jamaican Alex Powell continued his discovery of KZ2, as did Finn Luka Sammalisto.
In OK-Junior, the performance was certainly there…. Ukrainian Oleksandr Bondarev fought constantly at the front. He won three heats, set the best lap in Prefinal A, led the Final for several laps, but a penalty set him back in the Final. Romanian David Cosma Cristofor was the fastest driver on the track, both in Prefinal B and in the Final. The best result of the team went to Stepan Antonov, while Kian Fardin was at the top of the ranking before his retirement.
From Italy to Spain, the podium stays the same
The KR chassis won in the U10 category with a double win for Belgian Antoine Venant (in DAP colours) and Ukrainian Oleksandr Legenkyi, while Bogdan Cosma Cristofor – David's brother – took the second step of the podium in Mini.
Very close to the IAME factory, KR Motorsport was also represented in Spain at the IAME Winter Cup in Valencia. Thai driver Enzo Tarnvanichkul learned a lot in the tumultuous X30 Senior field, which saw Dmitry Matveev take pole position before running out of luck. The promising Thibaut Ramaekers won in X30 Junior and Jesse Phillips won in X30 Mini. Both the Belgian and the Briton are using a KR chassis! Congratulations to the technical staff of the KR Motorsport team, as well as to all the other partner teams of the Italian brand.
Press Release © Kart Republic