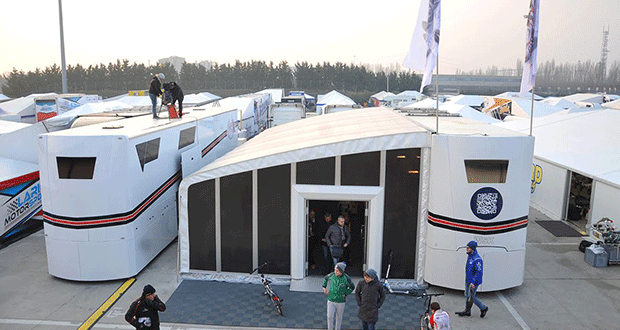 [divider style="dotted" top="10″ bottom="10″]
The new control system on track, provided by hd cameras deployed around the circuit, is ready for the 270 entrants to the WSK Super Master Series of Castelletto di Branduzzo (I). Fans will also enjoy the live streaming from the 7 Laghi International Circuit on Sunday 5th March.
[divider style="dotted" top="10″ bottom="20″]
[one_half]
[dropcap]N[/dropcap]EW CONTROL TECHNOLOGY PROVIDED BY WSKPROMOTION.
WSK Promotion provides new cutting-edge tools to control the races. Starting from the forthcoming appointment in Castelletto di Branduzzo, the second round of the WSK Super Master Series with 270 entrants, new HD cameras will be used for the video control of the competition. This is a massive enhancement of the well-testedcontrol unit of WSK Promotion: it is going to be an extremely useful tool for the race direction to keep a tight supervision on every phase of the event.
SAFETY MADE IN WSK.
The supervision of races is carried out by WSK on every track thanks to a video network which covers the whole of the circuit. The goal is to deter too dangerous battles
[/one_half]
[one_half_last]
between drivers. The 15 cameras deployed around the circuit should not leave any leeway to different interpretations regarding the behaviour of participants on track.This new system aims at getting a better and more detailed vision of each phase of the race: that's why the current devices have been substituted by the new HD cameras, which will be operational from the weekend at the 7 Laghi circuit.
PASSION ON VIDEO,LIVE ON WSK.IT.
Live imagesproduced by WSK Promotion will be available for all the motorsport fans on the official website wsk.it. A brand-new vehicle to host the WSK Race Control made its debut at the beginning of the season and it will be at all the WSKevents to produce the live streaming of the races. The live broadcast will start with the Prefinals on Friday 5th March.
[/one_half_last]
[divider style="dotted" top="10″ bottom="10″]
[divider style="dotted" top="10″ bottom="10″]
[divider style="dotted" top="10″ bottom="10″]
[box type="shadow"] Fonte: wskarting.it[/box]
[divider style="dotted" top="10″ bottom="10″]