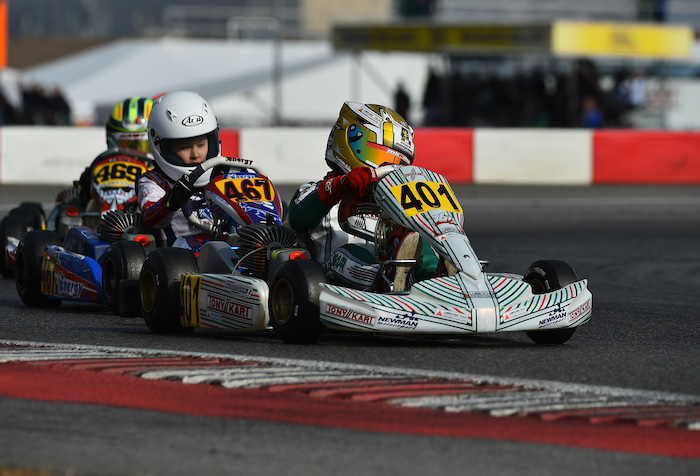 The engines at NEWMAN Motorsport are ready together fired up again. After the long lockdown generated by the COVID-19 health emergency, the team from Cesena led by Andrea Pedrini is ready to return to the track this weekend on the Adria Karting Raceway.
The Rodigino circuit, already the scene of the main events of the international karting scene, will host the two days of collective test, starting from Saturday 6 June.
Sarà il primo appuntamento post-pandemia per NEWMAN Motorsport che si presenterà in pista con 8 piloti, in azione col materiale 2020 Tony Kart in configurazione 60 Mini, X30 e OKJ. Giacomo Pedrini, Thomas Baldassarri, Patrick Fraboni e Andrea Bruscino (Mini), Mattia Bucci, Emanuele Bruscino, Matteo Luvisi (X30 Junior) e Flavio Olivieri (OKJ).
"Abbiamo aspettato a lungo questo momento e siamo felici di poter ritrovare un po' di normalità dopo un periodo tragico che non deve essere dimenticato. Ci siamo dotati di tutte le misure di sicurezza per questo ritorno in pista. Vogliamo che i nostri ragazzi si sentano protetti e sereni dando a tutti la possibilità di lavorare nel migliore dei modi.
 In questi mesi abbiamo fatto diverse prove al banco per sviluppare i motori e i due giorni di test ad Adria saranno certamente utili in preparazione della ripartenza della stagione, che si preannuncia intensa. Con piacere ritrovo i nostri piloti, con cui mi sono sentito spesso. Tutti hanno proseguito gli allenamenti a casa e aspettano con ansia il ritorno in pista" commenta il team manager Andrea Pedrini.
Il primo appuntamento ufficiale è programmato per il 5 luglio ad Adria, valido per il terzo appuntamento della WSK Super Master Series
It will be the first post-pandemic appointment for NEWMAN Motorsport which will be on the track with 8 drivers, at the wheel of the 2020 Tony Kart material in 60 Mini, X30 and OKJ configuration. Giacomo Pedrini, Thomas Baldassarri, Patrick Fraboni and Andrea Bruscino (Mini), Mattia Bucci, Emanuele Bruscino, Matteo Luvisi (X30 Junior) and Flavio Olivieri (OKJ).
"We have waited a long time for this moment and we are happy to be able to regain a bit of normalcy after a tragic period that must not be forgotten. We have equipped ourselves with all the safety measures for this return to the track. We want our kids to feel protected and serene giving everyone the opportunity to work in the best way.
In recent months we have run several dyno tests to develop the engines and the two days of testing at Adria will certainly be useful in preparation for the restart of the season, which promises to be intense. It's a pleasure to get to meet our drivers again, with whom I have always kept in touch. Everyone continued their training at home and eagerly awaits their return to the track "comments team manager Andrea Pedrini.
The first official appointment is scheduled for July 5 in Adria, valid for the third round of the WSK Super Master Series