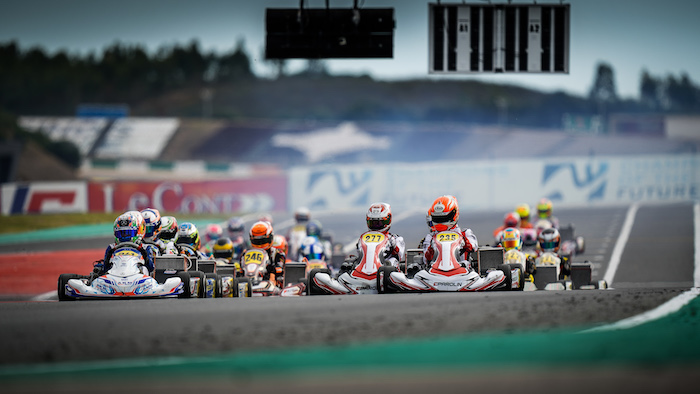 A week before the World Championship, the second event in the Champions of the Future series was set to be a dress rehearsal on the Kartodromo do Algarve in Portimao. The Parolin Racing Kart team confirmed a high level of performance in both categories with Travisanutto's return to the forefront in OK and a well-deserved podium for Al Dhaheri in OK-Junior. The best drivers in the world were among the 164 entered and the confrontation between the contenders was fierce.
"It has been an excellent opportunity from RGMMC to be able to take part in a preparation race just before the World Championship", said Marco Parolin. "We can be very satisfied with the performance of our equipment. The work has paid off. In OK, Travisanutto found his feet and Wharton was very competitive. They were both in a position to fight for victory. Al Dhaheri made superb progress in Junior with a very nice 2nd place in the Final as a well deserved reward. Rinicella also had a strong card to play, whereas Dodds' problem in Qualifying prevented him from shining. That said, we are aware that there are still some things that need to be improved and we will work hard on them before the start of the world meeting."
Everybody was happy to see Lorenzo Travisanutto back to his best for the first time this year. His collaboration with Parolin was very effective during the whole competition. After setting the 6th fastest time, he came back to 2nd position after the heats. It is a pity that he was penalised for his start in the Prefinal. 4th on the finish line, he was ranked 23rd. His comeback of 15 places in the Final proved that he was able to aim for victory. James Wharton did a great job during the heats by taking 4th place out of the 75 participants. Unfortunately, he was forced to retire twice in the Final stages. Miguel Silva started too far back to qualify, but his last two heats revealed interesting potential.
Rashid Al Dhaheri took an important step in OK-Junior. By lining up a fastest time and four results in the top five of the heats, including two 2nd places, he was able to fight at the front of the Final stages and his combativeness allowed him to finish on the second step of the podium. Valerio Rinicella also had a very good start during the weekend, but the Final stages didn't go as well for him. Deprived of Qualifying Practice, Maxwell Dodds was able to make some good comebacks in the heats, but the challenge was too big for him to qualify. Guillaume Bouzar and Jesse Alejandro Carrasquedo gave their all to come back from their distant lap times in solid heats and regained 12 and 13 positions respectively, but this wasn't enough.