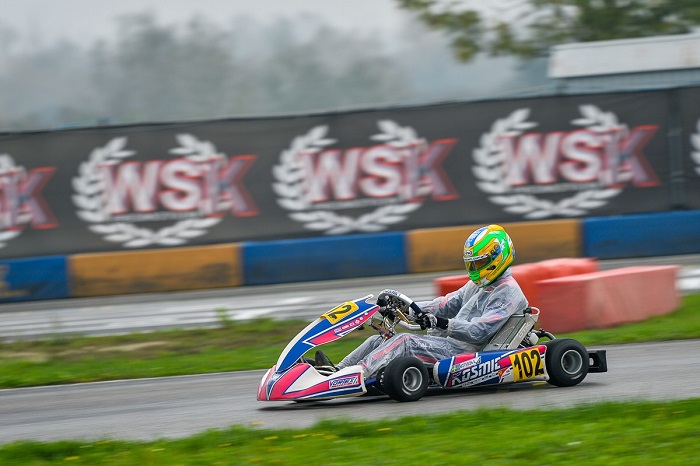 On the second round of WSK Final Cup on 7 Laghi circuit in Castelletto di Branduzzo, Axel Bengtsson conquered the bronze medal in the KZ2 category final.
After the first round, staged in October on the South Garda Karting in Lonato, the WSK Final Cup comes back during the weekend of November 8th-11thfor the second round (of three) on the 7 Laghi circuit in Castelletto di Branduzzo. A technical, but fast track on which Axel Bengtsson asserted the Kosmic Racing Department's colors, bringing them on the lowest step of the podium in the KZ2 shifter category.
The Swedish driver starts his weekend at his best and, despite the rain, manages to center the third absolute time in the qualifying heat (1'02"028), from which he then conquers a victory (with best lap time) and a second place in the eliminatory heats. This earns him the fifth position at the end of the heats, which Axel improves in prefinal, ending the race in fourth position. In Final, Bengtsson expresses all his potential driving his Kosmic Mercury S powered by Vortex, whose performances allows him to conquer the third position.
Very good results for the Kosmic Racing Department also in the OK direct driver category, where David Rozenfeldand Viktor Gustafsson lined up. The Swedish driver is able to gain a victory and a third place in the eliminatory heats, confirmed in prefinal A too. Here Gustafsson starts well and keeps the pace with the leading group until half of the race, when he gets involved into the brawl behind him, penalizing him and forcing him under the checkered flag in the seventh final position.
Also his teammate's performances were good, he was author of some good results in the qualifying heats (a fourth and a seventh place), allowing him to center the eight position in prefinal A.
The next appointment of the Kosmic Racing Department, the last round of WSK Final Cup, will take place on the weekend of November 22th -25thon the Adria International Raceway.