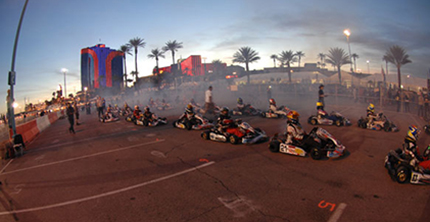 After another great edition of the SummerNationals (on July 20-21 in Grand Junction, CO) the SKUSA season is gearing up for the greatest international event of the year, the Las Vegas SuperNationals –  on calendar, as always, for Thanksgiving Day weekend: November  20-24, 2013. With 110 days to go, preparations are already underway to welcome the world's best drivers in 11 categories, including the international KZ2, for what is expected to be the biggest edition ever! Registrations are now open and are already close to being half full…..
This year's SuperNationals, at their 17th edition, promise to be to be the biggest ever! There are 600 available openings over a grand total of 11 classes: SKUSA's core Stock Moto (S1, S2, S4 and S5) and TaG classes (Senior, Master, Junior and Cadet), the international KZ2 shifter class,  again in the run for a total prize purse of $20,000 (with $10,000 going to the winner alone) and for the first time ever two Rotax classes, the Junior and the combined DD2/DD2 Masters field with the opportunity to earn tickets to the 2014 Rotax Grand Finals.
Registrations opened yesterday, August 1st and are already half full: 295 competitors signed up in the first 13 hours! That's almost half of the available 600 spots – "the biggest record ever at SKUSA," says the big man in charge Tom Kutscher. "At this rate, entry lists are going to  top off quicker than expected, so international drivers should hurry up and get their names in if they want to take part in the biggest karting show of the year!" As usual, SKUSA is supporting registered drivers and teams with special pricing at the Rio All-Suite Hotel and Casino. For additional information and to register, visit the SKUSA website: www.superkartsusa.com
Don't miss the exclusive interview with Tom Kutscher (in the photo with his wife and daughters) coming up on TKART Digital in September. Stay tuned!
IMAGE CREDITS
-track: otp.ca
-Tom Kutscher:  TKART