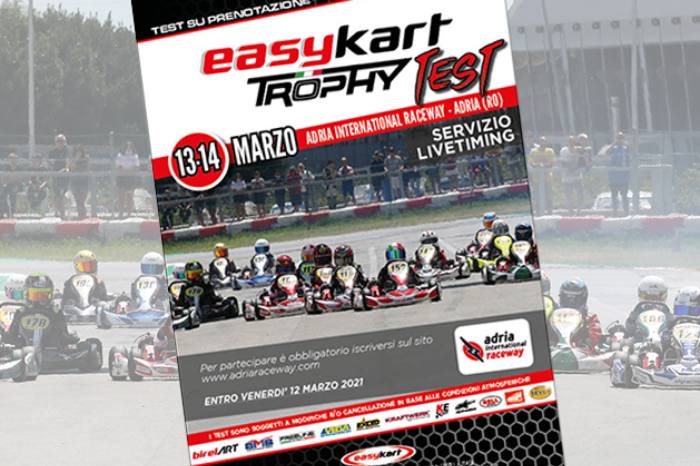 [translated with Google]
Registration is now open for the second Easykart collective test session to be held on March 13 and 14 at the Adria International Raceway.
It is possible to register no later than Friday 12 March 2021 through this link: https://docs.google.com/forms/d/e/1FAIpQLSeoFGmfcdOMX-5weTxReoC1NTN0yWmaAFs6Y5aAHJleYUrUmw/viewform?usp=sf_link
All Easykart categories will take to the track, starting with the newborn 60 Academy: the racing class dedicated to drivers between six and eight years of age and in possession of an E license will be in its second test of the season after the excellent debut last February in Castelletto di Branduzzo. The baby drivers will be able to compete with the same vehicles used by the "big brothers" in the Easykart 60 and with the BMB EKL 60 – ACADEMY engine (with a fixed ratio Z11-Z82). In addition to the 60 Easykart, the 100, the 125 and the BMB Challenge it will be possible to test in the Junior Shifter, reserved for drivers aged 12 to 15 and created with the intention of preparing them to compete in KZ and to move to single-seater competitions, whose race debut in Italy took place at last year's Grand Finals.
The test session on the Venetian track will be a truly unique opportunity to test the competitiveness of one's own technical means and the level of preparation of the "human means" in conditions similar to those that the Easykart paddock will most likely face in the opening round of the 2021 Trophy, scheduled on the Adria circuit on the weekend of 27 and 28 March.
The cost is € 60 per day, including the live timing service. The Birel ART structure will be present for the resale of spare parts, tires and technical assistance, while the two-day program will be published a few days earlier.
The promoter reminds that those who do not yet have the race number for the 2021 season are requested to send an e-mail to info@easykart.it with preferences on the number to be assigned to their chassis.
In order to access the facility, it is mandatory to deliver the duly completed covid risk self-declaration found on the website www.adriaraceway.com and all participating drivers must have a valid ACI Sport license. Pending a gradual return to true normality, Easykart management reminds of the obligation to observe the national health safety protocols throughout the area of ​​the facility and at all times, rules that allow us to continue practicing our sport.
See you on the track: stay racing, stay happy… and think Easy!
Press Release © Easykart