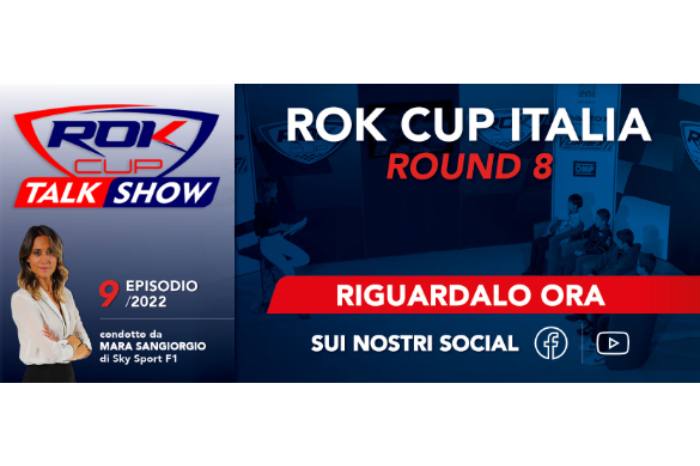 [translated with Google]
Audience glued to the screens for the ROK Talk Show, the fixed appointment of the "post-race" of the ROK Cup Italy. Last Thursday September 22, at 9.00 pm, the ninth episode of this year was broadcast on our Facebook page, with over 31,000 people reached (survey of September 27, 2022).
The absolute star of the episode was the season finale of the ROK Cup Italy at the Franciacorta Karting Track in Castrezzato (BS), with numerous guests in the studio under the careful management of Mara Sangiorgio, Sky Sport F1 journalist and kart enthusiast.
Shen Zeyu (new champion of the category), Francesco Koci, Riccardo Repetto and Valerio Viapiana animate the space dedicated to the little drivers of the Mini ROK, followed by Mattia Jentile and Filippo Tornaghi, teammates and rivals on the track, who talk about their exciting duel for the Junior ROK title. In the Expert ROK, Fabio Cretti is satisfied with his second place in the championship: "The season was definitely positive, the championship is well organized, with a series of positive factors such as the prizes, the drivers and the very high level". Finally, Nicola Rossini and Gabriele Bensi recount the daring battle for the title, awarded to the former for only one point of difference.
For those who haven't seen it yet, the ROK Talk Show is available online on our social platforms:
Press Release © OTK Kart Group