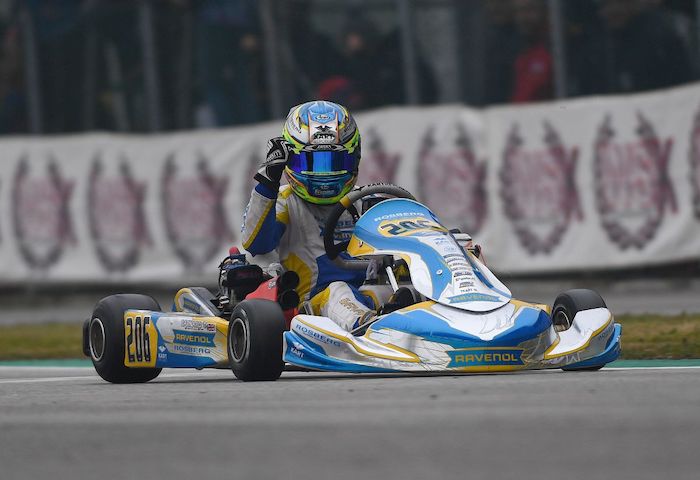 Taylor Barnard started his 2020 season with a fantastic win at the WSK Champions Cup in Adria!
The British driver has been competitive since qualifying and also during the heats in mixed conditions (wet and dry). He managed to get away of troubles at the start of the final, set himself to the lead and build a solid gap to secure the win; well done Taylor!
Good news also from Stenshorne in OKJ, who fought for the win with fellow KR drivers and managed to jump on the podium in second place!
Good 6th place in OK for our new driver Laurens Van Hoepen, who's been fast the whole time, but needs a bit more luck for next time.
Unlucky week end for Bertini in OK, who will keep pushing for the next race.
OK winner, Taylor Barnard: "It was a good race! I managed to get away at the start, and Harry (Thompson) was close. Then, I think he started struggling with his tires, while I tried to stay consistent and build a safe gap. I'm very happy and I want to say thank you to KR and Iame!"
OKJ driver, Martinius Stenshorne: "I had a good qualifying performance, same for the heats. I've been able to win my prefinal starting from P2. I lost some places at the start of the final, but I've been able to recover and finish 2nd; It's a good result for the team!"
Kart Republic General Manager, Dino Chiesa: "Really happy for Taylor, who's in a positive spin since least year's World Championship; nothing much to say about him, he's been solid and the results speak for himself! I'm happy to report that we made some progress in OK, on a track that hasn't always been easy for us. Next week we will face more opponents, since some of them were missing this time, so we will see how we stack upon them.
Kart Republic had 5/6 OKJ drivers to manage at this race and all of them made a good job! It's been a 1-2-3 finish for us and Stenshorne could even get more; he has good speed and determination!"