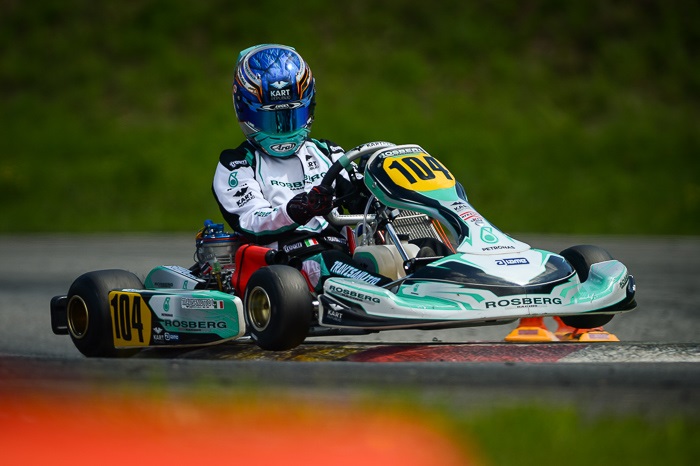 "We are one", the slogan of the brand new Kart Republic has definitely proved that it sounds right! The Italian chassis dominated the third round of the European OK Championship at Ampfing, Germany. With his kart in the colours of Rosberg Racing, Petronas and Arexons, Lorenzo Travisanutto led the Final almost from start to finish. In the end, the Italian driver did not hesitate to leave the victory to the German Hannes Janker, who has real chances of bringing the European title to KR.
Since the official presentation, it only took a few weeks to celebrate the first Rosberg Racing podium with the KR Motorsport team. The result is down to the very high level of performance achieved throughout the German meeting by Lorenzo Travisanutto. In the OK category, which is full of hopefuls for karting and cars, the KR-Parilla karts clearly marked their advantage on the competition by taking the top two places of Timed Practice, the Qualifying Heats and the Final.
First podium for Travisanutto with Rosberg Racing
At the start of the Final, Lorenzo Travisanutto managed to surprise Janker (TB Racing Team) and was able to build a good lead over the laps. "I was a little sick in practice and I admit that Hannes was slightly faster at the start of Qualifying," said Lorenzo. "But over the three days and the heats, we put together a fantastic package. I also set the fastest lap of the race in the Final. In England, I passed the chequered flag first, but the victory could not be validated because of a penalty. This time, I am very happy and proud to have put the colours of Rosberg Racing on the podium. This is very encouraging for the future, because we have extremely competitive equipment, with exceptional technical staff."
A perfect set-up
In OK-Junior, Taylor Barnard achieved some excellent Qualifying Heats despite her young age and lack of experience. He has progressed over the days on the most winding and demanding route, to finally move up to 17th in the Final, out of a total of 80 drivers initially entered.
"There are many positive things to remember from this European Championship event," commented team manager Dino Chiesa. "First of all, the collaboration between Rosberg Racing and the KR Motorsport team is excellent, with prestigious partners like Petronas and Arexons. Technically, we have always worked in the right direction. The KR chassis has been performing well since it was homologated and the development in recent months has paid off. Janker and Travisanutto were clearly above the crowd at Ampfing. They imposed a steady rhythm from Qualifying to the Final and we also knew how to keep the tyres in excellent condition. We must salute the perfect finale from Lorenzo and his decision to put Hannes in a good position for the title. In the end, it's a wonderful double for KR in OK."
For Rosberg Racing and KR Motorsport, the end of the European Championship in August promises to be just as exciting, with the World Championship in sight in September …