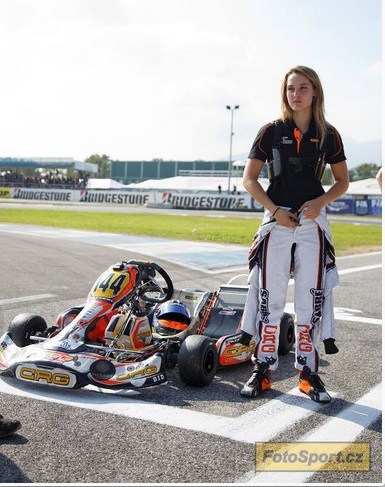 PRESS RELEASE – TKART – Not having to travel far for the second round of the 2015 Cold Stone US Open, CRG USA competitor and current Shifter Elite championship point leader Sabré Cook will look to carry the momentum gained in the opening round to her home track. Competing under the CRG USA banner, Cook hopes to take advantage of home track knowledge and experience of the Grand Junction Motor Speedway (GJMS) in her quest for another race win in 2015 and the continuation of adding to her already impressive resume.
---
"The first round was a success for both myself and my team," explained Cook. "We were able to secure heat race wins, a podium result in the main event and leave Dallas with the point lead. I have been looking forward to the second event of the series since we left the first one."
Cook, who teamed with five-time world champion Davide Forè, qualified her CRG in the fourth position during the opening event. Heat race one saw her in an intense battle with Forè for the win and in heats two and three, Cook drove smart and consistent to finish with two more second place finishes and a third in heat four. Starting the main event from the outside of the front row, Cook would shoot to the point with the hole shot and lead early during the fourteen lap main event before dropping a wheel in one of the many puddles around the track, allowing Forè to sneak by for the lead. Cook would fight with another competitor for second before falling back in the late stages to cross the line in P3. With her consistent top-three results throughout the weekend, Cook attained 470 points towards her quest for the title and will have the target directly on her back for the upcoming event.
The 2015 Rotax Challenge of the Americas DD2 champion and Rotax Max Challenge Grand Finals (RMCGF) Team USA member continued, "I know the boys in the class don't like to look at the point standings and see a girl in the lead. I have a feeling the competition will be fierce for the upcoming event but I am ready to go."
CRG USA and Sabré Cook would like to thank the following for their continued support: CRG Nations, K1, MG Tires, Viceroy Resorts, AIM Sports, SwedeTech Racing Engines, Grand Junction Motor Speedway, New Line Racing, Bell Helmets, Brett King Design, Holeshot Chain Systems, Sniper Alignment Systems, and Tillett Seats.