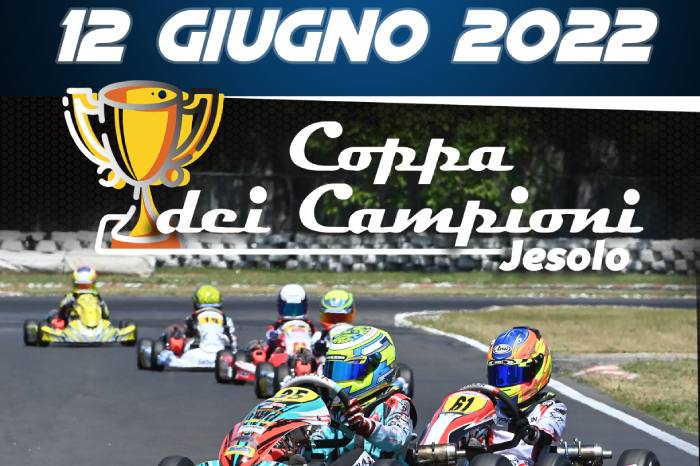 The race open to the two categories MINI Gr.3 and X30 Mini will take place at the Pista Azzurra of Jesolo (Venice). The racing Format is innovative, a set of MG tyres to be given for free to the finalists.
The first event completely dedicated to the always exciting MINI category will take place at the Pista Azzurra of Jesolo in the weekend of June 12th, 2022.
The importance of the event is mirrored in the name it has been given: Jesolo Champions Cup, which reminds of the great karting event that was organized by the late Mario Calzavara in the 70s at the historic Pista Azzurra, the racetrack that is still successfully managed by his son Francesco Calzavara.
This is going to be an "Only Mini" event that highlights the great success of the category for drivers aged between 9 and 12, which is always more crowded by international drivers, especially after the MINI Gr.3 that was introduced last year with CIK-FIA technical homologation.
The Jesolo Champions Cup "Only Mini" of June 12th is open to the Mini Gr.3 and X30 Mini categories and has the goal of providing the young talents that are aiming to higher motorsport categories with a great stage to shine on. The format of the event is going to be partially innovative and will also leave some space for a fun weekend in a touristic place like Jesolo.
The racing stages will be from Friday, June 10th to Sunday, June 12th, but practice sessions could be run from Tuesday, June 7th. The timing service will be active from Thursday, June 9th. One of the main novelties regards qualifying, with the introduction of the Superpole after qualifying practice. All the drivers qualified for the finals of MINI Gr3 and X30 Mini will have a free-of-charge set of MG tyres to run the final.
Website: https://coppadeicampionijesolo.it/
Press Release © X30 Promotion