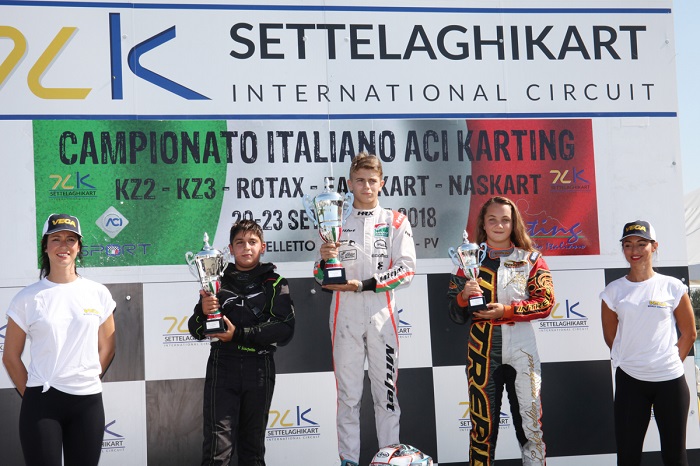 "Translated with Google translate"
On the Circuit 7 Laghi di Castelletto di Branduzzo (Pavia) the Rotax Italian Championship for the Max and Junior categories ended. In the Rotax Max dominated Davide Vuano (Prague), who at Castelletto di Branduzzo won the victories in both Finals thus winning the Tricolore title in the category.
Vuano graduated from the Italian Champion thanks to the victories obtained both in Race1 and in Race2 in the Siena trials (April 29th), La Conca (June 10th), Lonato (July 1st) and Castelletto (September 23rd), with the sole exception of Val Vibrata on 26 August where Filippo Laghi (Tony Kart) won in both finals in his only participation. At Val Vibrata Vuano was placed third in Race1 and second in Race2.
At Castelletto di Branduzzo in the Rotax Max, with Vuano winner in Race 1, Patrick Marchetto (Prague) took the podium with second place and Marta Bussola (Intrepid) with the third. The other classified were Massimo Santin (Prague) and Andrea Zollino (Kalì-Kart) both penalized by 10 seconds. In Race 2, with Vuano still winner, on the podium with second place went up again Marta Bussola and with third place Zollino, while Marchetto and Santin, penalized by 10 seconds, were ranked fourth and fifth respectively.
In the final standings of the Italian Rotax Max Championship, Davide Vuano occupies the first position with 148.8 points and is Campione Italiano, ahead of Marta Bussola with 90.5 and Andrea Zollino with 87.5. Fourth was Massimo Santin with 80 points, fifth Patrick Marchetto with 72, sixth Giacomo Parisotto with 38, fifth Filippo Laghi with 33 and seventh Davide Faustini with 15.
In Rotax Junior at Castelletto di Branduzzo, the success achieved in both the finals Elia Galvanin (Exprit), in Race 1 in front of Vincenzo Scarpetta (Tony Kart) and Emma Segattini (Intrepid), while in Race 2 the second place went to Emma Segattini also thanks to a 10 seconds penalty imposed on Vincenzo Scarpetta. In the final standings Elia Galvanin with the victories in Lonato, Val Vibrata and Castelletto, concluded with the highest score with 115 points, ahead of Emma Segattini with 107.5, Scarpetta with 90 and Babbolin with 26.
In the Women's ranking, Emma Segattini won the title of the Women's National Trophy absolute, Marta Bussola placed second overall.
All the rankings on the site www.acisport.it/it/CIK/home