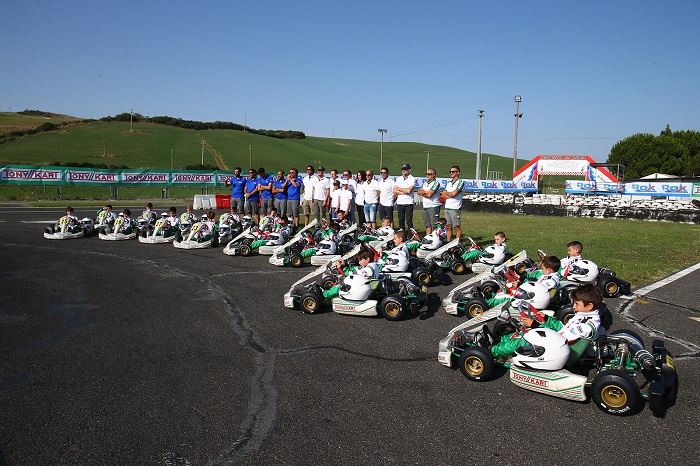 "Translated with Google translate"
Castelnuovo Berardenga – Siena, 19 July 2018. The Kart Summer Camp for children aged 6 to 10 enters the event organized by ACI Sport and ACI Sport Federal School on the Siena Circuit in Castelnuovo Berardenga, with the second day of Thursday 19 July dedicated to in-depth analysis after the start of Wednesday for this three-day initiative involving 20 children from most of Italy.
Also present Giancarlo Minardi, supervisor of the initiative, and Raffaele Giammaria, director of the ACI Sport Federal School, who this morning officially presented the event together with the staff of the Federal School composed of the instructors Gabriele Lancieri, Enrico Toccacelo, Stefano Tredicine, the secretary Alessandro Apostoli, from the psycho-pedagogist Glenda Cappello and from the manager of the regulations Lucio Tonello. The technical staff of OTK Kart Group is also present and has made available the Tony Kart-Vortex vehicles with the entry-level Kid Rok model for children from 6 to 8 years, and Mini Rok for children from 9 to 11 years, on the track with Bridgestone tires. The event also has the technical support of OMP for the supply of clothing complete with overalls, shoes, gloves and helmets.
Testimonials of the event in Siena also two very young "stars" of national karting who in the past have attended the Summer Camp and on this occasion are present to offer advice and support to the participants of this event, Andrea Kimi Antonelli and Andrea Filaferro.
The program of Thursday 19 July: explanation of the meaning of the flags, slalom, time trial braking, Pit-stop, wet hairpin, free spins with respect to the flags, starting procedure, power supply, chrono session.
Press office
ACI Sport S.p.A.