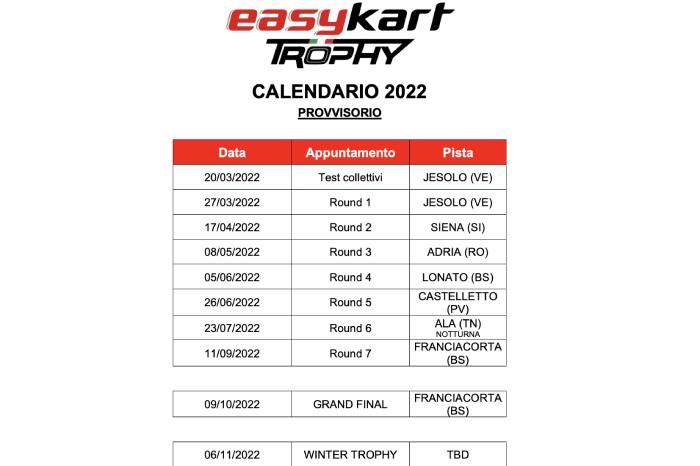 [translated with Google]
Revealed last weekend on the official social media channels, Facebook and Instagram, the provisional calendar for next season includes confirmations, a mix of tracks, the return of Lonato and the Grand Final in Castrezzato, home of the final round of the FIA ​​Karting European Championship next July.
After a "restart" 2021 that saw a growing participation of drivers and exciting races, next year promises to be spectacular: 2022 will open on the "Pista Azzurra" of Jesolo (Venice) with collective tests on March 20 and the inaugural appointment the following weekend. In April the Easykart paddock will move to the "Pista di Siena" in Castelnuovo Berardenga (Siena), with the Tuscan round anticipated from summer to spring (April 17), while on May 8 the Circus will return to Veneto for the traditional appointment on the "Adria International Raceway" (Adria), venue of the last race of the FIA ​​Karting European Championship of KZ and KZ2 the following month.
In the middle of the season the fight to decree the 2022 champions will get underway and will do so on June 5 on another track of global importance such as South Garda Karting (Lonato), upon its return to the Easykart calendar after a couple of years of absence. June will also see a second appointment in Lombardy, on June 26 at the "7 Laghi Kart" of Castelletto di Branduzzo (Pavia).
"Luglio, col bene che ti voglio" said a famous Italian song from the 60s and the seventh month of the year will represent for Easykart the return to the "Ala Karting Circuit", in the cool evening of Ala (Trento in Trentino) for the second edition of the "Night Race" scheduled for Saturday July 23.
After the summer break, the Easydrivers will be back on track on September 11 for the last and decisive round that will assign the champion titles, rendezvous on the track that will host the final act of the OK and OK-Junior FIA ​​Karting European Championship just two months earlier, the "Franciacorta Karting Track" in Castrezzato (Brescia). The 21st edition of the International Grand Final will also be held in Franciacorta on the weekend of October 9 and the Winter Trophy is also confirmed on November 6 with a track still to be defined.
The management reminds that the calendar is provisional and, as such, both the dates and the locations could undergo variations.
Stay connected. If the real Easykart paddock now goes on vacation for the winter break, the virtual one never stops with lots of multimedia contents still unpublished and news.
See you on the track. Stay racing, stay happy… and think Easy!
DOWNLOAD THE PROVISIONAL 2022 CALENDAR
Press Release © Easykart