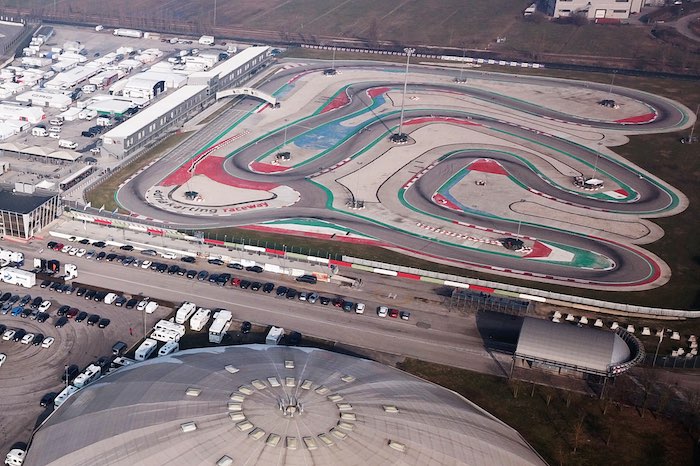 WSK events are continuing full speed and, just one weekend after the WSK Champions Cup, the Adria Karting Raceway is all set to welcome the first of the four meetings of WSK Super Master Series from January 30th to February 2nd.
More than 220 drivers entered the opener.
More than 220 drivers have already entered the three categories OK, OK-Junior and Mini that will fight for the respective titles in this international event. At the start are all the main constructors and teams, that will take the chance to test on track all the novelties announced in the past few weeks. This is also why the wait is mounting ahead of the first round of WSK Super Master Series in Adria.
The rich hall of fame of WSK Super Master Series.
WSK Super Master has a long tradition. Born in 2010, the series has kept growing in terms of spectacle and participation. Last year it scored record figures with a peak of 336 drivers in the second round in Lonato with all the four categories KZ2, OK, OKJ and Mini on track. A lot of champions in WSK Super Master Series successfully continued their career in motorsport. Among the most famous names, Antonio Giovinazzi won the series in KF2 in 2010 and 2011, while the KF2 victory of 2012 went to Max Verstappen, who won KZ2 in 2013. A lot of karting champions put their names in the Hall of Fame of this event: Marco Ardigò holds the record of 5 wins claimed in 2012, 2014, 2015, 2016 and 2018. The WSK Super Master Series winners of 2019 were Bas Lammers in KZ2, Dexter Patterson in OK, Andrea Kimi Antonelli in OKJ and Rashid Al Dhaheri in Mini.
WSK Super Master Series 2020 calendar.
Rd. 1: February 2nd, Adria Karting Raceway
Rd. 2: February 23rd, South Garda Karting, Lonato
Rd. 3: March 8th,International Circuit La Conca
Rd. 4: March 22nd International Circuit Napoli, Sarno
The program in Adria, January 30th – February 2nd.
The first meeting of WSK Super Master Series will kick off in Adria on Thursday, January 30th, with free practice and scrutineering. Free practice will continue on Friday, January 31st and will be followed by qualifying practice. Heats will be on Saturday, February 1st, while the final stages will get underway on Sunday, February 2nd with the live streaming coverage.
Info www.wskarting.it