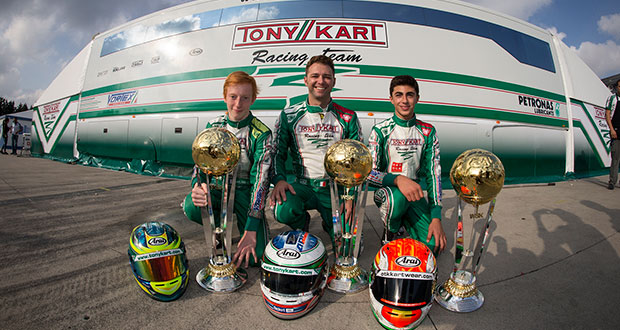 [divider style="dotted" top="10″ bottom="20″]
In the WSK Final Cup, Ardigò wins in KZ2, Milesi (2nd) and Vidales (3rd) get on the podium in OKJ.
[divider style="dotted" top="10″ bottom="20″]
[one_half]
[dropcap]T[/dropcap]he last international competition our Racing Team attended in Europe, WSK Final Cup, was a success. On the demanding Adria Raceway Karting track our drivers have raced at the top of all three categories, getting on the podium and always fighting for the victory. The absolute success was gained in KZ2 by our Marco Ardigò. In OKJ class, Milesi and Vidales have deservedly conquered one step of the podium.
KZ2. In the category with the gear, all our four drivers were all protagonists and other than Ardigò's great success, we've seen on the podium the young Alessio Piccini, author of positive heats.
In the qualifying the protagonist was Marcus Armstrong who, after a positive second position, finished the heats in fourth place, preceded by Iacovacci and his two companions Piccini and Ardigò. Just Ardigò has left little space to his rivals in the qualifying heats, winning three out of three and resulting invincible for his pursuers.
In the pre-final our drivers' performances were always top and Ardigò took the lead of the race from start to finish, ahead Hajek (Kosmic Kart-Vortex) and a determined Piccini.
The final was another solo of Marco Ardigò's Racer 401 powered by Vortex engine, who was the leader, impregnable, from start to finish.
Piccini missed the podium at the end, after a race run always in the top three positions.
Armstrong stopped on the last lap when he was struggling closely with some rivals for the podium.
Yet another comeback, Luca Corberi's, was interrupted halfway through the race, due to a collision. Given the performance of the final, without Corberi and Armstrong withdrawals, the first positions would be even more marked by the Tony Kart-Vortex chassis.
OK. In the heats of OK class, Simmenauer and Novalak were fast and efficient, with Novalak which prevailed in a qualifying heat finishing in second place, behind the Kosmic Kart-Vortex of the World
[/one_half]
[one_half_last]
Champion Basz and preceding Lorandi's Tony Kart-Vortex (Baby Race Team).
In the prefinal Novalak led the race until the fifth round, then he was forced to stop, losing all chance of victory.
Simmenauer finished third but was penalized by the Stewards, slipping to sixth.
In the final, won by Basz, Novalak was extremely fast, showed to have a perfect chassis and performed a comeback that brought him back in the top positions, in sixth place, with twelve positions recovered. Our Clément only signed the best lap of the event, in OK category, with the formidable time of 47.075 (gained in the heats).
The Tony Kart-Vortex colours got on the podium thanks to the Italian performance of Travisanutto, third position, driver of the WARD Racing team.
OKJ. Even in the cadet class the Tony Kart green colour has shone, primarily with our drivers Charles Milesi and David Vidales, both on the podium of the final, respectively second and third.
Already in the heats it was clear that the technical equipment at the disposal of our drivers was successful to the point that Vidales has shown off in two heats, always fighting with drivers at the wheel of chassis made in Prevalle, such as Watt, Martins and Taoufik.
In the two prefinals our drivers confirmed their potential. Vidales won the prefinal 2 and Milesi was second in prefinal 1.
In the final it was our French driver to run a race on the attack, after losing ground in the early stages, Charles moved up to the sound of fast laps and overtakings and took second place behind the Kosmic Kart of Martins (VDK team).
Vidales got the podium at the end of a hard fight against Watt (Tony Kart-Vortex, Baby Race srl team) and Taoufik (FA Kart-Vortex, Ricky Flynn Motorsport team).
Now, for the drivers of the categories without gear, OK and OKJ, we have to prepare for the competition that will award the world title, scheduled in mid-November on the track of Bahrain.
Official rankings WSK Final Cup 2016
[/one_half_last]
[box type="shadow"] Fonte: OTK Kart Group news@otkkartgroup.com[/box]
[divider style="dotted" top="10″ bottom="10″]