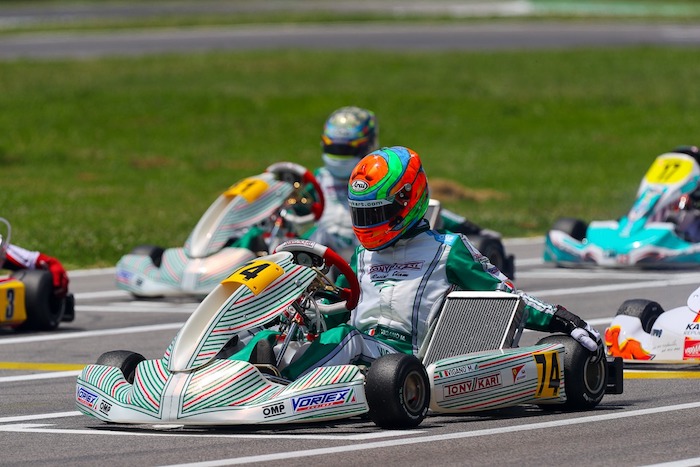 The busy season of the Tony Kart Racing Team reaches another important stage, the one of the third round of the WSK Euro Series scheduled on the South Garda Karting circuit in Lonato from 21st to 23rd June. An intense challenge, with four categories on the track: our drivers will be racing for the final victory in two of them.
The first one is the KZ2, that right in Lonato will be running the second and final stage awarding the 2019 Title. Our Simo Puhakkacrossed the finishing line first in Sarno and is currently the leader of the same rating where Marco Ardigò (sixth) and Matteo Viganò (seventh) are in top ten. With them, also Alessio Piccini, always entering the fight for the top positions in the last races and Noah Milell.
Beyond the unlucky events, the last European race proved that the Racer 401 R chassis and the Vortex engine guarantee excellent performances: everything is ready to conclude the WSK continental series in the best way.
The other category the Tony Kart Racing Team will take part in is the OKJ, where our Nikita Bedrin is currently 16 points behind the leader of the rating: the goal is to stay until the end fighting for top positions.
With the Russian, in the same category, Alex Dunne will get to track, unlucky in the first round in Sarno but protagonist in the European races and ready to continue with positive results and Josep Maria Martì, author of excellent performances throughout the WSK season and Fia Karting.
As for the OK category, we line up a big group of drivers: Matheus Morgatto, Josep Turney and Ryan Li MIngyang, together with Sebastian Montoya: confirming the competitiveness shown in the previous rounds, especially with the great comebacks performed in Sarno, will allow us to fight for top positions certainly within our reach.
Finally, at the South Garda karting our 60 Mini drivers will be back on track, to compete in an international context on their Mini Rookie EV. The very young drivers Jules Caranta, Andreas Cardenas and Irfan Coskun will take part in the race, continuing their apprenticeship together with Jimmy Helias, currently in top ten in the rating and eager to improve his position.
To follow the action on the track of the third round of WSK Euro Series, you can visit the website www.wskarting.it, where you will find the live-timing of every sessions and the live streaming starting from Sunday prefinals.