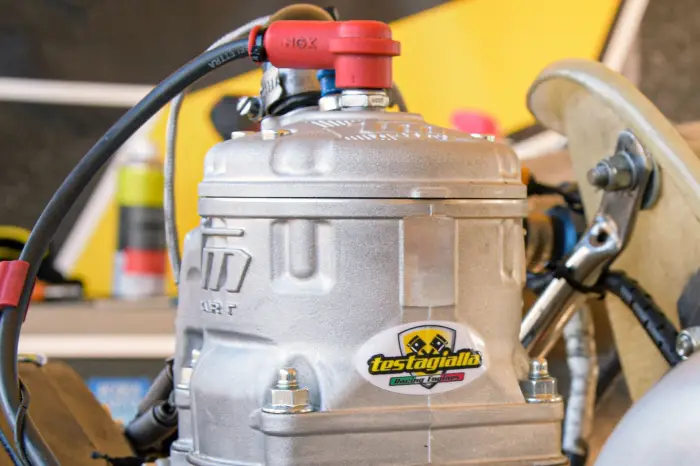 [translated with Google]
The first races were held in Zone 4 (Lazio, Abruzzo, Molise) and Zone 5 (Campania) with a good number of participants. Convincing debut of the OK-N in Arce.
It was a very positive debut for the Italian Zone Cup 2023, with the first two opening races of the season held last weekend in February in Arce with the GP Prestige round at the Circuito Valle del Liri for Zone 4 (Lazio, Abruzzo , Molise), and in Battipaglia with the Trofeo Alboreto at the Circuito del Sele for Zone 5 (Campania).
In both tests there were practically double the participants of last season, 101 in Arce against 54 in 2022, 81 in Battipaglia compared to 47 last year. A promising and certainly positive start.
Here are the first championship leaders:
Zone 4 (Lazio, Abruzzo, Molise): Christian Guardia (60 Mini), Diego Bertellini (MINI Gr.3 Under 10), Marco Quintilli (MINI Gr.3), Federico Diana (KZ2), Benedetto D'Avelli (KZ2 Under 18), Antonio Apuzzo (KZN Rookie), Domenico Tiranno (KZN Over 25), Antonio Piccioni (KZN Over 30), Paolo Gagliardini (KZN Over 50).
Zone 5 (Campania): Matteo Gei (60 Mini), Marco Verde (MINI Gr3 Under 10), Giuseppe Annunziata (MINI Gr.3), Vincenzo Scarpetta (KZ2 and KZ2 Under 18), Nicola Imparato (KZN Over 25), Vincenzo Di Costanzo (KZN Over 30), Giovanni Ciccarelli (KZN Over 50).
The debut of the OK-N in the Arce round.
The new OK-N category also made its début in Arce, in a convincing debut due to the competitiveness expressed by the drivers involved in the Lazio event, where victory went to Lamberto Ferrari over Achille Mizzoni and Federico Nardozi. OK-N therefore ran and with good numbers despite the delay in engine deliveries which at the moment did not allow for the regular assignment of points. From the month of March, when the Italian Zone Cup will enter the heart of the calendar, with the regularity of deliveries the category will finally be able to begin its development, also in view of the Italian ACI Karting Championship which will start from Cremona on May 21.
The first complete rankings of the Italian Zone Cup have been published.
The complete rankings of the first two rounds of the Italian Zone CUp are published on the ACI Sport website at the address https://www.acisport.it/it/RCC/classifiche/2023.
Press Release © ACI Sport