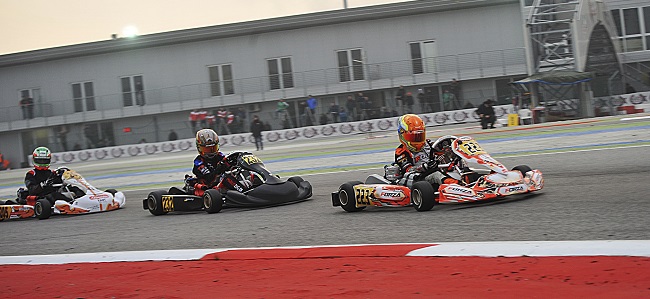 Green light: Adria kicking off the WSK Champions Cup.
The 229 drivers that passed technical and sporting scrutineering, the first step leading to WSK Champions Cup, have officially began their campaign: the circuit of Adria has kicked off today the opener of international karting, the event that officially opens the nine events 2018 calendar by WSK Promotion. The competitive part of the weekend that is underway at the Adria Karting Raceway had its first official act this afternoon with an official timed session, that followed the two free practice sessions held yesterday. A total of 38 flags are weaving in the paddock of the circuit, one for each of the nationalities of the drivers present that cover 4 Continents.
Timing practice, first results.
This afternoon session has given the first indications regarding the weekend that has just started. These laptimes will certainly help to decipher qualifying heats: the Italian Andrea Kimi Antonelli (Energy-TM-Vega) has been the quickest in 60 Mini posting a best lap of 54"816, which placed him among the strongest contenders of this category as in the past seasons. In OKJ, his class switch has started on a high for the Italian Gabriele Minì (Parolin-Parilla-Vega), who was the quickest in 48"457. The class advancement from OK Junior to OK has been deserved also by Barbados's Zane Maloney (FA Kart-Vortex-Bridgestone), who set the fastest time in 48"245. In KZ2, the Romanian Daniel Vasile (DR-Modena-Bridgestone) has topped the charts in 48"213 instead.
Qualifying heats. Hunting for a place in the finals.
Right after timed practice, qualifying heats have opened a long series of races that will keep drivers busy tomorrow for the whole day. In 60 Mini Antonelli has started on the right foot winning one of the races held today. The Polish driver Karol Pasiewicz (Energy-TM) and the Norwegian Martinius Stenshorne (Parolin-TM) had the upper hand in the other two heats run today. In OK Junior, two drivers came to the fore as the favourite for the victory on Sunday: the Brazilian Gabriel Bortoleto (CRG-TM) and the Estonian Paul Aron (FA Kart-Vortex), that won their heats. The European Champion from Britain Jonny Edgar (Exprit-TM) and the Dane Nicklas Nielsen (Tony Kart-Vortex) shared the glory in OK today. KZ2 drivers will run their heats tomorrow instead.
Live streaming on Sunday 28th.
The media production by WSK Promotion is in full swing and a network of cameras are ready to broadcast the images of the Sunday races from the Adria Karting Raceway. The appointment is for 11:10 with Prefinals. The official website www.wsk.it will show all the races live until the end of the Finals.
Fonte: WSK Promotion