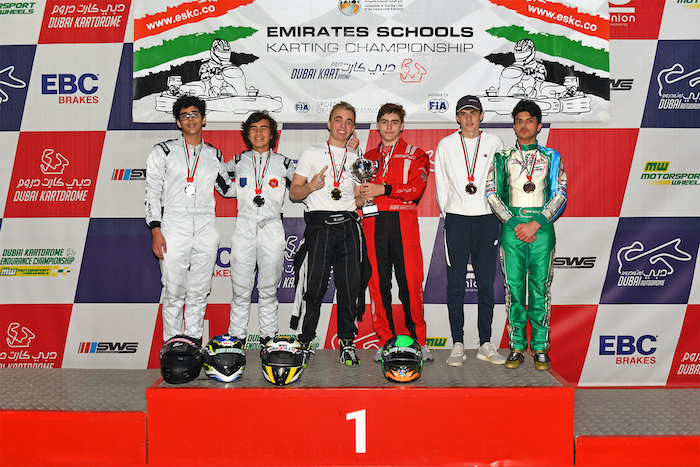 The final March races of the Emirates Schools Karting Championship (ESKC) were reluctantly yet understandably cancelled due to the Covid-19 crisis, and with three of the four rounds completed for both Juniors and Seniors, organizers at Dubai Kartdrome declared the champions for 2019-2020.
Dubai Kartdrome Manager David Bright said, "Congratulations to all the those who took part this season. It was very encouraging to witness the development and growth of the series, with more schools entering teams and record entries in both the Junior and Senior categories. This is very promising, not only for karting as an accessible afterschool sport, but for the future of grassroots motorsport."
"I believe a big contributor to this year's success has been the Dubai Autodrome Karting Academy (DAKA), which has been an important tool in bring new people into the sport and getting new drivers up to speed at a competitive level. Now the EKSC organisational team is busy working behind the scene preparing for the 2020-2021 Championship, which is due to start in November of this year."  Bright added.
Senior ESKC Class Champion
Over the years teams from Swiss International Scientific School in Dubai (SISSD) have featured on podiums but it was only in the third round of this season that the school finally achieved an overall race win. Now SISSD, with drivers Enzo Al Azhari and Hakon Lees, can add a championship title to the school's honours as well.
SISSD topped the ESKC category with 98 total points, sneaking ahead of early title contender Jumeirah College Team 1 on 84 points. Nord Anglia International School Dubai Team 2 claimed third place in 2019-2020 ESKC championship with 73 points.
Bright remarked, "As part of their prize for winning the 2019-2020 Senior ESKC Championship, SISSD will receive free entry into the next round of the Dubai Kartdrome Endurance Championship, powered by Motorsport Wheels. I am sure the students and teachers will be delighted, as they will be stepping up into one of the most competitive leisure kart championships in the world."
Senior ESKC Nomad Champion
Former Nomad champion, Ghost Racing Team, more than any other ESKC team, was eagerly awaiting a fourth-round showdown with arch rival VDR Racing, only trailing by six points and hoping to avenge the Nomad title defeat from last season. It was not to be.
Having lost momentum to Ghost Racing Team 1 in the third round, Khalifa Al Qubaisi and Daniel Alves of VDR Racing may have dodged a bullet by not having to race again. However, the opening two rounds were superb for VDR and it did everything required to keep control of the 2019-2020 Nomad title, becoming the only ESKC team this season, Junior or Senior, to successfully defend its championship.
VDR Racing wrapped up its second Nomad Cup hitting a century total of 100 points, with Ghost Racing Team 1 left to claim an agonizing second-place on 94 points, followed by Apex Racing with 77 points.
ESKC Junior Champions
Teams from Safa Community School will be heartbroken not to have one more chance, as two of the three teams were still in the title hunt.  However, they trailed the championship leaders, Dubai English Speaking School & College (DESSC), by at least 14 points at the end of three rounds.
DESSC drivers Isaac Hadri, Harry Hannam, Muhammad Durrani and Vehaan Subramanian racked up 100 points total to claim the 2020 ESKC Class Championship for the team. Safa Community School Team 2 earned second-place silverware on 86 points and Team 1 took third with 84 points.
ESKC Junior Nomad Champions
With three wins in a row, a final round was probably not required to declare F&O Racing, with ace pilots Federico Al Rifai and Oscar Lambert, the Nomad champs. F&O Racing steamrolled through the Junior field on its way to collect 102 points and the 2020 Junior Nomad Class title.
SR Team posed the greatest challenge to F&O this year, earning it the number two Nomad spot on the championship podium with 89 points total, followed by Dragsters DXB on 86 points.
About Emirates Schools Karting Championship (ESKC)
Founded in 2015 under the patronage of Mohammed Ben Sulayem, FIA Vice President and President of the Automobile and Touring Club for the UAE (ATCUAE), the ESKC was designed to allow school and college students the platform to participate in competitive kart racing.
The ESKC is open to students of all karting abilities, with two age categories available: Junior (ages 7-12) and Senior (ages 13-18). The ESKC aims to encourage students to adopt and learn new skill sets, which will help them later in life, whilst at the same time have competitive fun.
Students of the same school on a team compete in the ESKC Class, while students of mixed schools on a team compete in the Nomad Class.