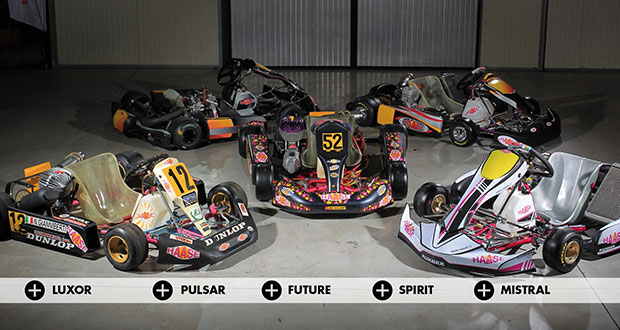 [divider style="dotted" top="10″ bottom="10″]
The manufacturer founded in Italy by Jorn Hasse, a Danish racing champion of the '70s and '80s, celebrates its silver anniversary. Let's take a look at its journey through the chassis that have marked its history.
[divider style="dotted" top="10″ bottom="10″]
[dropcap]P[/dropcap]ULSAR 1997

CHASSIS
Without doubt one of the most innovative chassis of the past 20 years.

The bodywork features an intersection of tubes in the area in front of the fuel tank: in fact, the side member that begins at the right rear wheel stretches to the left front wheel and vice versa. A feature that totally goes against traditional standards, allowing improved smoothness on fast bends. The tubes were of mixed 30/32 mm diameters, with the smaller diameter used in the axle area.

According to Haase and his technicians, the chassis had great performance, but did not enjoy the success it deserved due to a general distrust towards an "odd" product, which was very sensitive to adjustments and, therefore, not easy to set up.
ACCESSORIES
Among the accessories, it is worth highlighting the spindles: 17 mm, as in the previous Luxor model, but completely machined from solid.

The brakes feature a traditional "spring return" system and master cylinder without tank.

Accessories such as the bearing housing cases were available in aluminium or magnesium. As is the case nowadays, the track conditions dictated which material was used.
CURIOSITY
The first Pulsars produced had an intersection of tubes that forced Haase to create a purpose-built, stainless steel, TIG welded tank that was domed using compressed air to improve its look. The curves were later modified and it became possible to fit a traditional tank.

Another curiosity: the tubes passing under and over the intersection were inverted, depending on whether the circuit had more right-hand or left-hand bends.

An anecdote testifies to the distrust surrounding the chassis: in a race in Jesolo, a Haase driver insisted on using a traditional chassis, because he said the Pulsar felt uncomfortable. His performance levels meant that he was among the leading group, but was unable to challenge for first place. Haase was very insistent and convinced him to try the Pulsar. What happened? He managed the pole-position and won the pre-final. In the final, the engine broke down while he was leading.
(find out all about the other Haase chassis on the "SPECIAL" TKART Magazine channel)

[divider style="dotted" top="20″ bottom="20″]
 
 Find out all about TKART Subscription! >>>
[divider style="dotted" top="20″ bottom="20″]
[box type="shadow"] How to read the article:
[toggle title="New user?" state="close"]SUBSCRIBE NOW* and you'll get access to all the 15+ TKART themed channels!
You can read new articles (constantly updated on all channels) and articles published previously.[/toggle]
[toggle title="Already a subscriber?" state="close"] Go to mag3.it or enter the TKART app; select the "SPECIAL" channel.[/toggle]
*Valid for 365 days from activation, on PC/tablet/smartphone (Apple and Android).[/box]
[divider style="dotted" top="10″ bottom="10″]
[divider style="dotted" top="10″ bottom="5″]