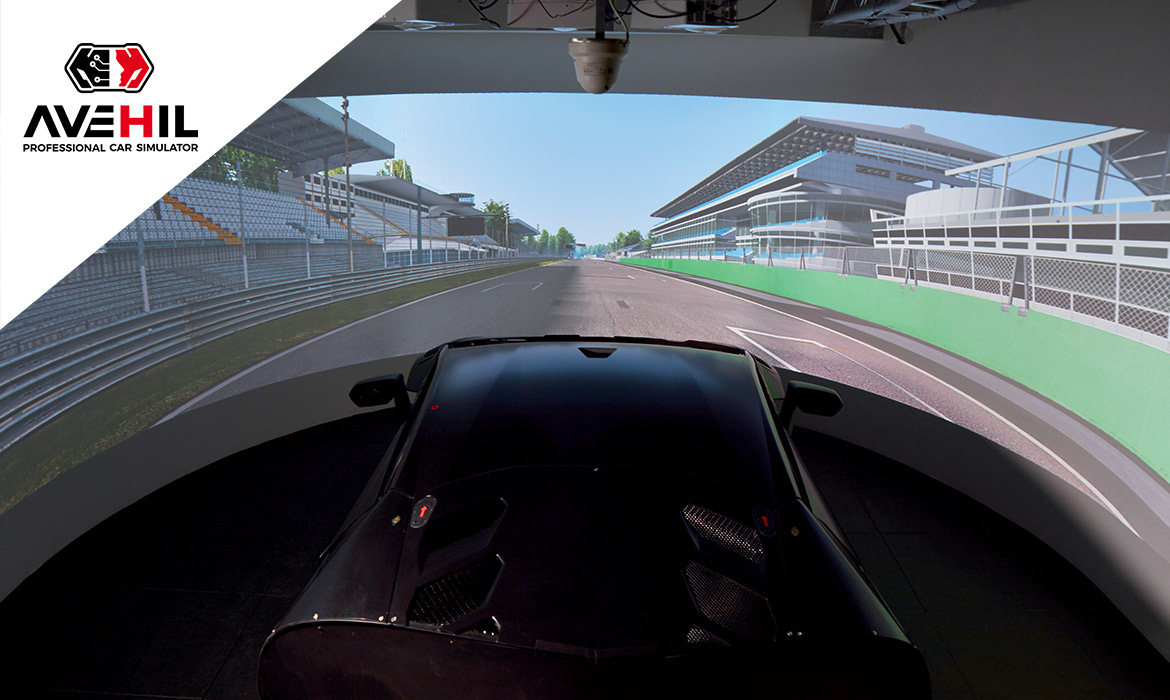 AVEHIL is a professional simulator designed and built to be a real tool for work and training for professional drivers (from F1 down, through GT and prototype cars and get to the cars of the minor formulas).
THE DRIVER AT THE CENTER
AVEHIL GT is designed in every detail to "fool" those who sit behind the wheel, making him believe that he is behind the wheel of a real car. From the curved screen that virtually surrounds the passenger compartment, to the sound, to the couple that is applied on the steering wheel, everything has been studied and calibrated in order to faithfully reproduce reality.
A REAL GT
AVEHIL GT is based on the true body of a Lamborghini Huracan Super Trofeo. But also steering wheel, pedal board, seat, brake pump, brake caliper … are exactly those of the real car, just to fully immerse those who drive in … virtual reality.
"ANTI-SICKNESS" MOTION PLATFORM
The body of the Huracan Super Trofeo is installed on a platform that can replicate the movement and acceleration of a real car. The device that guarantees the "anti-sickness" car dynamics, that is able to practically zero the side effect of the feeling of nausea typical of many simulators.
IT IS IN MONZA, IN THE RACETRACK
The headquarters of AVEHIL is right inside the Monza Racetrack, 20 minutes from Milan. To be precise, it is located inside the central grandstand, on the main straight of the Autodrome. It is open every day from 9 to 19.
Here are just 4 examples …

Barcellona

Hockenheim

Magione

Brands Hatch

Imola

Monza

Nordschleife

Laguna Seca

Spa

Barcellona

Brands Hatch

Hockenheim

Imola

Laguna Seca

Magione

Monza

Nordschleife

Spa