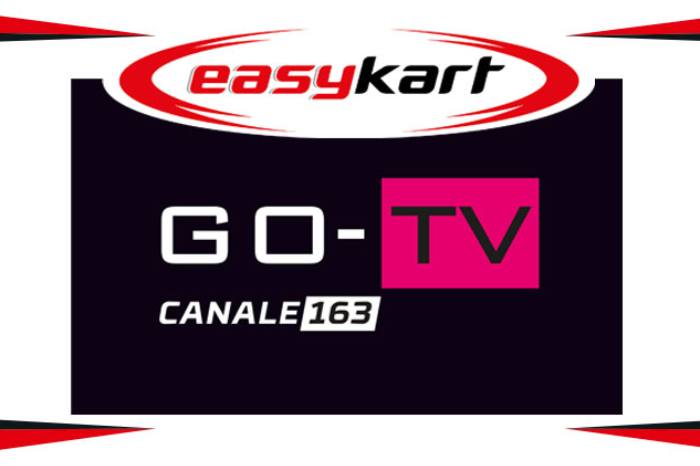 [translated with Google]
Birel ART is pleased to announce the partnership between Easykart Italy and GO-TV Canale 163, the television broadcaster, born last February 1st, which broadcasts on channel 163 of the Digital Terrestrial Television throughout the whole country.
The new channel offers content mainly related to the world of motorsport and sport in general, but there is also no lack of entertainment programs with VIP guests, current affairs, insights, formats for children, gaming, food and music, thus offering a schedule at 360°. The visibility of such content is guaranteed throughout Italy on a single LCN, 163, which enjoys a catchment area of ​​60 million potential viewers.
The new partnership for the 2022 season has already been anticipated by an "episode 0" with the full broadcast of the XX Easykart International Grand Finals on Sunday 24 October in prime time, showed again on the following Tuesday.
The new season will open immediately with a series of special episodes in the first weeks of the year, during which the highlights of the races of the International Final will be broadcast, the protagonists who made 2021 an incredible year will be hosted in the studio and all the news and previews of the new year will be presented.
Riccardo Scarlato, Editor GO-TV: "I am very happy and proud to be able to collaborate with Birel ART again. After broadcasting the integral races inherent to the International Grand Final 2021 throughout Italy on GO-TV, I am pleased to announce that in January we will carry out two episodes entirely dedicated to the Easykart International champions. The winners will be present at our GO-TV CHANNEL 163 television studios. Furthermore, with the Easykart staff, we are working to be able to give all the drivers, teams and enthusiasts national television coverage for the 2022 season".
Fabio Foglieni, Easykart Manager: "I am very happy to be able to announce the new collaboration with GO-TV as it represents a further development of our media offer. For over five years, Easykart has distinguished itself as one of the few karting realities at an international level that offers adequate communication and promotion on its social channels, with the publication of videos, interviews and backstage episodes. The partnership with GO-TV allows us, in fact, to guarantee our teams, our drivers and our paddock further visibility thanks to the potential catchment area targeted by the GO-TV television channel."
Press Release © Easykart